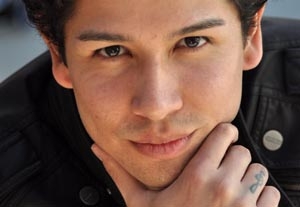 To take on the role of Angel Dumott Schunard, one is required to carry the heart of Jonathan Larson's groundbreaking musical, "Rent," as well as its message of "no day but today." False eyelashes, fire engine–red lipstick, and a pair of great legs do not hurt, either.
After scanning Back Stage notices online, armed with previous experience in drag performing, Andy Eubanks knew he was a perfect fit for the part. "I knew that Angel would be my stereotype, so I bit the bullet," he says. "To be quite honest, I would much rather have a try at Mark or Roger." Producer-director Jeriane Banson, co-founder of the Royal Underground Theatre Company and Jerica Productions, was taken with Eubanks as soon as she spotted him at work. She recalls, "I was down at the bottom of the barrel, not satisfied with the actors auditioning for us. I watched a video of Andy singing, asked him to come in, and I had confidence that I finally saw an Angel."
At the audition, Eubanks took an approach he had never taken before. He showed up in drag, singing Alicia Keys' "Fallin,' " and completely let loose. "If I'm going to do it, I'm going to do it," he thought. Banson adds, "He was the only one that walked in with full drag and understood the part." After a second round of final callbacks, Banson spoke to Eubanks privately and offered him the contract on the spot.
Mounting and sustaining a show like "Rent" can be daunting. Banson decided to double cast to preserve the actors' voices and stamina; however, inevitable challenges developed, and Eubanks was willing to lend a hand along with original Broadway cast member Gwen Stewart. The director recalls, "It's been a long journey: a lot of ups and downs, drama backstage, triumphs, trials, and errors. Andy has remained positive. He took helm of the other cast when they needed help, and we would be in contact 24 hours a day." Eubanks adds, "When it comes to my cast, they've been nothing but selfless and giving."
Eubanks was trained as a ballet dancer, where discipline is paramount. That discipline has become an integral part of his philosophy as a performer in theater. "You can't clock out whenever anything goes wrong. It's live theater, and you have to be invested in it," he says. "No divas. It's all about putting the work forward."
Currently, Eubanks is working on being signed to a record label, but he would love to stay in theater. The dancer-singer-actor has been building a strong foundation to be prepared for the role of Angel, yet he did not do it alone. In recalling his most influential teacher, he says, "My husband, Dak Eubanks, was a dance teacher of mine. He taught me discipline, to be humble, and always brought me back down to earth.
If anyone is owed credit, it's him." The message of "Rent" continues to ring true for Eubanks. He says, "Having seen a lot of things in my life and having experienced a lot of loss, it's a show like this that keeps you going and keeps the message alive about spreading love and not living for tomorrow—expecting that you're going to say you're sorry to someone tomorrow. Say it today and love today."
"Rent" has been extended through May 21 at the Hudson Backstage Theatre in Hollywood. For more information, visit www.jericaproductions.com. 

Eubanks can be found in the Back Stage actor database.

Has Back Stage helped you get cast in the past year? We'd love to tell your story. Be in the weekly column by emailing casting@backstage.com for New York or bswcasting@backstage.com for Los Angeles with "I Got the Part" in the subject line.