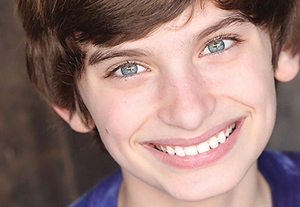 No 12-year-old boy is happy to see the girl of his dreams' big brother waiting to pound him outside their house. That is, unless you are Andy Scott Harris and you are shooting a scene from "The Driveway," a short film by director Kevin McDermott.
Harris plays the role of Henry, a boy who finally gets the aforementioned girl to agree to a bike ride, but her elder brother Vinnie gets in the way by threatening Henry with "a fine" if he leaves his driveway. Harris submitted himself for the project after seeing it on BackStage.com, and McDermott was glad to receive his submission, even though it came in after the initial auditions had ended. "They were all too young," McDermott says of the actors who auditioned at those first sessions. "I wasn't planning on holding any more, but I really needed that part. He was the lead of my movie, so I had to."
In addition to Harris being the right age and having the right look for the role, his submission included video clips from past projects that caught the director's attention. "I was able to watch his work in other roles, and that is invaluable," says McDermott, who made arrangements to meet Harris and his mom at their house and have him read sides. Immediately after the reading, McDermott offered him the part.
"Number one, he's a good actor," the director says. "He has experience—that came through in the audition. Number two, he has an amazing personality, a very likable kid, which comes through immediately when you meet him. I knew he would be a pleasure to work with. Just his talent and personality—I could tell he had a level of commitment to it."
It was not Harris' first role, but he says it was one of his more enjoyable ones: "I got to ride this old Sting-Ray bike, which is really fun for me."
Harris became interested in acting while living in Minnesota, where he performed in school plays, before moving to Los Angeles at age 10. "We allowed six months to a year to see if I would get work," he says. "And in my first year, I got a lot of short films and also booked 'House,' which was my first speaking role ever. I'm still doing well, so we've been out here for a total of three years now."
Moving was exciting for him, though he was sad to leave all his friends and his school behind. But Harris is still loving the experience and pursuing his dream. "I got big plans for my adult career," he says, in addition to having his own sitcom or being in a major feature film. "I want to have enough money to buy a Ferrari. That's my dream—for cars." He would like to follow the career path of Leonardo DiCaprio, who is one of his favorite actors and who he thinks is "really cool."
Harris studies acting at Cynthia Bain's Young Actor Studio in Studio City, Calif., where he enjoys the exercises and honing his talents. He recently completed filming a starring role in "The Boarder," due to be released in March 2011. He is represented theatrically by the Osbrink Talent Agency and for voiceover by AKA Talent, and he is managed by Linda DeFilippo at DC Talent.
Has Back Stage helped you get cast in the past year?   We'd love to tell your story. Be in the weekly column by emailing casting@backstage.com for New York or bswcasting@backstage.com for Los Angeles with "I Got the Part" in the subject line.