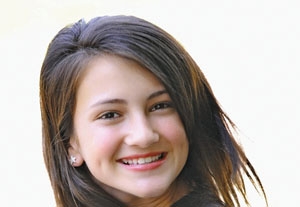 At just 12 years old, Anise Jade Falco landed the part of the young Coco Chanel in Nippon Television's biopic "The Life of Coco Chanel." It was a role that would add the nonunion performer to the esteemed ranks of Audrey Tautou, Shirley MacLaine, and Katharine Hepburn, all of whom have portrayed the fashion icon on stage or screen. Thanks to a Back Stage casting notice, Falco scored not only her first feature-length film credit, but also a prestige period piece produced by one of Japan's largest broadcast networks.
"I had seen the Chanel label before, but I didn't know exactly who it was," says the now 14-year-old Falco. "When I got the role and I learned about it, I actually did start getting more interested in fashion."
She soon discovered that simple black dresses and pearl necklaces were found only in the latter part of Chanel's storied life. Most of Falco's scenes were set in the orphanage where Chanel spent her adolescence, a stark contrast to the elegant ateliers of her adulthood. While Falco's scenes were limited in number, they were pivotal for character development. "We shot a scene where she was cleaning the orphanage loft, to portray her tough time there," says the film's production manager, Yuko Matsuda. "Because of that, she grew up to be an ambitious and tough, successful woman."
Matsuda adds, "It's tough to cast young actors, because they're so easily distracted. I remember Anise as very focused. She presented a strong professionalism that was amazing considering her age." It's a sentiment echoed by Falco's mother and manager, Lisa Falco, who watched her daughter's on-set transformation with both practical interest and maternal pride. "It was just thrilling," Lisa Falco says, "and Anise was so calm and professional. I was very happy and excited that she was getting to experience this."
The unique experience was certainly not lost on the young actor, who in just one film got to watch herself in turn-of-the-century France (via a New York City soundstage) and see her performance dubbed into Japanese for the Nippon TV audience. When the DVD arrived from Japan, she couldn't wait to behold the finished product, and particularly to hear her onscreen voice.
"It was pretty cute, actually. I giggled," she says. "But I thought it was pretty cool that they did that—to see what I sound like in Japanese and whatnot."
She says the experience is one she'll always remember. When asked about the possibility of having fans halfway around the world, Falco responds, "It's amazing just to think about that, and it would be amazing to know." A few more high-profile performances and she may just get the chance.
Has Back Stage helped you get cast in the past year?  We'd love to tell your story. Be in the weekly column by emailing  casting@backstage.com for New York or bswcasting@backstage.com for Los Angeles with "I Got the Part" in the subject line.