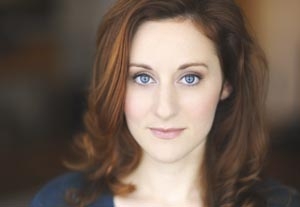 After graduating from the Stella Adler Studio of Acting's two-year conservatory program in 2010, Ashley Ford (formerly Rutherford) was determined to land as many roles in New York City as possible.
A large part of her motivation stems from the fact that her current Optional Practical Training visa is set to expire; the Canadian actor's only option for remaining in the U.S. beyond 2011 is to be deemed an "artist of extraordinary ability." That's something she hopes to demonstrate by landing prominent roles on stage and screen.
To help her achieve that goal, the nonunion actor sets aside every Thursday to focus on sifting through Back Stage casting notices and entering the relevant audition dates into her calendar. "I'm very meticulous," she says. "The day when Back Stage comes out...that's the day when I spend an entire afternoon or more just on my online account."
One day she came across an open audition for the Looking Glass Theatre's Writer/Director Forum. It called for monologue readings before an audience of one-act-play directors.
Jen Browne, the director of Lynn Snyder's "Mayan Mask," was looking to cast the lead, Joan. The character was described in Back Stage as "just turned 30, uptight, worried about her biological clock." While Browne was watching the talent onstage, a quirky monologue titled "Sperm" grabbed her attention.
Though the subject matter of Ford's monologue overlapped with that of the play, it was the actor's subdued humor that won her a callback. "Aside from talent," Browne recalls, "she just had a certain energy that I really liked…which I thought definitely fit within my vision of 'Mayan Mask,' because it's an offbeat, humorous play."
Ford's commitment to being well-organized and professional wasn't overlooked either. "She did exactly what you're supposed to do in an audition," Browne says. "She's very on her game, very on top of things." For her performance as Joan, Ford won the Forum's audience award for favorite actress.
In addition to "Mayan Mask," Ford recently booked a TV and print campaign through Back Stage, as well as a role in "Before God Was Invented" at Off-Off-Broadway's Theater for the New City, running March 17–April 3.
Though the Vancouver expatriate is happy with the regional scene back home, she would prefer an extended stay in Manhattan to further explore her talent. Currently, Ford is taking private voice classes with Alithea Phillips, an instructor from Stella Adler.
Has Back Stage helped you get cast in the past year? We'd love to tell your story. Be in the weekly column by emailing casting@backstage.com for New York or bswcasting@backstage.com for Los Angeles with "I Got the Part" in the subject line.