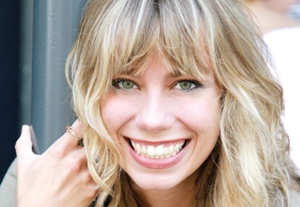 Ashley King didn't have to search far for inspiration to play middle-school teacher Ms. Peterson, an endearingly spacey earth mother whose classroom is full of bullies, problem children, and at least one little girl who may be the spawn of Satan. King—who saw the casting notice for the short NYU student film "Death and the Blue-Eyed Boy" on  BackStage.com—is the daughter of two educators, so she's no stranger to the job's demands. Fittingly, in her first-ever stage role, in sixth grade, she played a teacher. This time the Pittsburgh native channeled a former art teacher.
"She was kind of the last of the hippies at our school," says King. "She was always just a little bit off, always looking at the wrong side of the room when there was something going on right behind her shoulder." The nonunion actor quickly adds that the teacher was "a lovely woman," but it's easy to understand how she'd be a natural fit for a character who's always looking on the bright side, despite a looming inferno. "Ms. Peterson is not really tuned into all that's going on that maybe she could have helped put a stop to," King says. "She's just a very positive presence."
Blue-green auras can only take one so far, and it was sharp comedic instincts and on-the-spot adaptability that landed King, a musicalimprov vet, the job. Producer Brett Potter recalls having to make sure the character, one of the few adults in the film, didn't fall into one-note territory. "To see if the actor was truly right for the role, we wrote an intentionally lame joke into the sides," Potter says. "It was all about 'Can you actually make this funny?'We threw Ashley a softball, and she just nailed it. All of us were actually laughing out loud."
Potter credits King's ethereal humor and great smile for providing just the right balance to some of the film's darker, more horrific elements. During lengthy camera blocking, she bonded with her onscreen pupils, played by students from Sag Harbor, N.Y., enriching the performances once the camera was ready to roll. "There's no room for egos when working with kids," King says. "You just have to put all of that aside to make sure the kids have a supportive environment, so that they can do the best that they can do." She was only too happy to eavesdrop when her young co-stars piped up with questions about film terminology. "It was a great learning experience for both age groups," she says with a chuckle.
Teacher and students reunited when "Death and the Blue-Eyed Boy" was screened twice to packed audiences at the Hamptons International Film Festival last month. King is now working on a new musical, "Pigeons: A Musical Fable of New York," as writer and director. It was chosen to be part of the annual Scene It! New York competition, which took place in September at the Jerry Orbach Theater—another opportunity that King landed through Back Stage. At this point she has no plans to continue in the family's line of work. "I respect the people that do it," she says. "That being said, I still think I'm going to stick with acting."
Has Back Stage helped you get cast in the past year? We'd love to tell your story. Be in the weekly column by emailing casting@backstage.com for New York or bswcasting@backstage.com for Los Angeles with "I Got the Part" in the subject line.