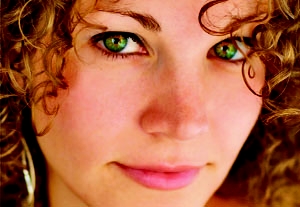 In August 2009, Beth Sobo was on vacation from her work as an international cruise ship performer and visiting her boyfriend in Portland, Ore. On a whim, she checked BackStage
.com for acting opportunities in the area and discovered a casting notice for the musical "Gracie and the Atom" at Portland's
Artists Repertory Theatre
. Right then and there, she had, as she puts it, a gut moment, "when your fingers tingle or your stomach flip-flops, and you just know something is going to be a big deal. That is the feeling I had reading that ad."
With only 48 hours until the audition day, Sobo called to make an appointment. As she knew nothing about the musical or its creators, she started researching immediately. She downloaded the show's album from the iTunes Store and realized it was "not your average Broadway sound, but funkier and grittier," she says. This allowed her to select appropriate audition material. Having learned that the characters are angst-ridden teenagers, she dressed the part as well.
"Beth showed up wearing a jean skirt and a baseball jersey," recalls the single-named McKinley, the show's creator and a member of the Portland-based band
Dirty Martini
. "Since Gracie is boyish, smart, and tough...this is exactly what I was looking for."
Allen Nause
, director of the show and the theater's artistic director, agrees, adding that Sobo "had a kind of toughness to her, as well as a vulnerability, which is what I was really looking for in the role."
Unfortunately, due to her cruise line schedule, Sobo was unable to attend the show's October callbacks. Rather than give up, she says, "I prepared a detailed audition packet, which had more headshots, résumés, my audition reel, and my own recording of two of the songs from the show that they had requested." She then asked her boyfriend to deliver the packet to the theater on the day her callback was scheduled.
While some actors might balk at being so forward with a casting team, Nause says Sobo's persistence "was very smart of her.... Knowing that she was out of range and couldn't come to callbacks, she made sure she stayed in our minds."
In November, Sobo's ship docked in Lisbon, Portugal, for a two-week vacation, so she flew back to Portland. While there, she made a phone call that perhaps secured her the role, she says, letting Nause know that she was in town and available to audition again. An appointment was made, Sobo performed her callback, then she returned to Lisbon. Shortly thereafter, she received an email from the theater asking her to call. Despite the choppy reception, the nine-hour time difference, and voice delays, she was somehow able to connect with Nause, who offered her the title role.
After such a lengthy audition process, the actual production of "Gracie and the Atom" flew by, with rehearsals beginning in late March for a run through the end of May. Nause says the show came together so well in part because Sobo "turned out to be a very quick study in terms of choreography and music, so that we had that stuff down pretty early on.... She continued to grow all through the run."
A professional in the entertainment industry for more than four years, Sobo, who got her Actors' Equity card thanks to her "Gracie" gig, has focused her efforts primarily on musical theater. "My work has spanned regional theaters, luxury cruise lines, and national tours," she says, but she admits she would like to branch out into TV and film as well. To that end, she is currently taking an on-camera workshop in Portland, where the team at Artists Repertory Theatre hopes she will choose to stay for the long term.
For more info about Sobo, visit
www.bethsobo.com
.
Has Back Stage helped you get cast in the past year? We'd love to tell your story. Be in the weekly column by emailing casting@backstage.com for New York or bswcasting@backstage.com or Los Angeles with "I Got the Part" in the subject line.