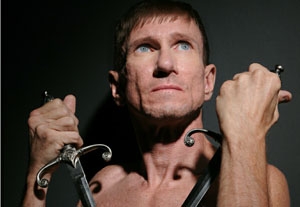 To market themselves, all actors need to know their type: blue-collar or white-collar, sexy teacher, nerdy bus driver, or sweet little old lady. When Bill Oberst Jr. left the New York stage to make his way in Hollywood, he was surprised to discover that the camera saw him in a whole new way.
"I'm terrifying," Oberst says, laughing. "I had no idea I was terrifying before I came out here, but I am. It's really weird. The camera sees faces differently than the eye does. I've had people say, 'Oh, you don't look creepy to me,' but then when I get on camera, boom, there it is. So once I narrowed it down to that sort of niche and found out that I was Mr. Creepy, I work a lot. I've had to develop camera techniques to go with my face."
Happily, Oberst enjoys doing horror films. "I did a movie called 'Dismal,' " he says, "which ran on Showtime all this year, and it's a cannibals-and-coeds flick but it had some very nice moments in it where I got to have this sort of malicious glee. I really like horror characters that enjoy what they're doing and are almost childlike in their enjoyment of it." Being such a fan of the genre, he knew when he saw the casting notice for "1334" in the July 1 edition of Back Stage that he was looking at something special.
The notice was placed by Nico B., a well-known art-house/horror filmmaker whose cult classic "Pig" was made with legendary death rocker Rozz Williams, who died shortly after it was completed. "1334" is a follow-up to that 10-year-old film, and Nico B. faced a difficult task in casting it: He needed someone to portray Williams. When the filmmaker auditioned Oberst, he knew he'd found the right person.
"What attracted me was the kind of roles he has played and the intensity of his personality, but also his physical description was exactly what I was looking for," Nico B. explains. " 'Pig' played at the American Cinematheque and many film festivals and still plays to this day, and I wanted someone to portray my old friend, who was a well-known person in the music business. So I wanted somebody to have a similar appearance to him."
Although he has been in Los Angeles only three years, Oberst says, "I did stage in New York City for 12 years and loved it and thought stage was all I ever wanted to do, and then I did a little docudrama for the History Channel about Gen. William Sherman called 'Sherman's March,' and I got bit by the bug. So I came out to L.A. I thought I was going to go to classes, but I haven't had time because I'm always working." Oberst's IMDb page lists more than 30 credits in the last 18 months. "But I had to learn camera acting, which is a completely different technique than stage, and I've learned it by reading Michael Caine's book 'Acting in Film' over and over again and asking as many questions as I can."
Oberst is still a member of Actors' Equity, in addition to SAG and AFTRA, and says he misses theater work and hopes to return to it someday. But he loves being in front of the camera, and as long as he's acting, he says, he's happy: "To be a working actor is plenty for me—just plenty, plenty. It's all I ever wanted to do since I was a kid. I hired a publicist finally, and he has me going out to these red-carpet events and saying I'm going to be famous in a year, and if that happens it's great, but just to be able to get up and do what I love for a living, that's enough."
As long as horror films are being made, Oberst has a good chance of meeting that goal. "If the breakdown says menacing or antagonist in any way, I know I've got at least a 50-50 chance," he says. "Although my mom doesn't like it. Every single time I talk to her, she's like, 'Oh, what are you doing, honey?' and I tell her, 'Well, mom, I've got to go, 'cause I've got to kill a prostitute with an iron.' She says, 'Are you ever going to do anything nice?' and I say, 'Well, mama, they don't think I'm nice.' It's a typecasting town."
Has Back Stage helped you get cast in the past year? We'd love to tell your story. Be in the weekly column by emailing  casting@backstage.com for New York or bswcasting@backstage.com for Los Angeles with "I Got the Part" in the subject line.