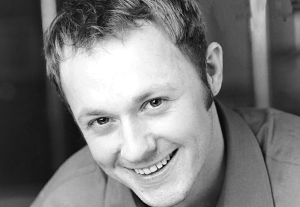 In addition to his experience with Irish comedies, his openness during the audition process helped Brendan Ryan land the title role in Shadow Lawn Stage's summer production of Hugh Leonard's "The Au Pair Man," at Monmouth University in West Long Branch, N.J.
"The audition experience for me is always fun," says the Equity actor. "I tend maybe not to focus like I should on the text as other actors do. I hate that feeling of overthinking when I go over and over the text…. One thing that helped was that there were more women than men, so I got to read more than just once and do things differently each time, because each actress was different. I love that opportunity to read more than once." As opposed to making a conscious choice to vary his readings, Ryan made himself receptive to what the other person in the scene was doing and reacted organically to what was happening. "The actresses were all really great," he says. "I had an idea of how I interpreted the character and then just sort of rebounded off of what the actresses were doing."
According to director John Burke, Ryan's experience with the genre, his choice of audition material, and his personable attitude made his audition and his callback particularly successful. "The thing that impressed me at the three-minute audition was that he basically had the accent down and did a monologue that was appropriate to the kind of character that he was going to play," Burke says. "At the callbacks, I deliberately try to get engaged in a short conversation with people…just to see how they react and how they talk and how they engage in conversation." At the initial audition and the callback, Ryan "scored high and he was appropriate for the part," the director says, "and that's what got it for him."
Having trained at the William Esper Studio, Ryan is currently studying at Bergen Community College, where he landed a role in "Kiss Me, Kate" after working on his skills as a singer and musician. "I was advised to start taking singing lessons a couple years ago, and I bumped into a teacher, so I started taking lessons," he says. "I also took piano and guitar lessons so I could read the music and understand what's going on, and I landed the gig."
Ryan has toured for several years in the role of Vincent van Gogh in "Eulogy for Vincent," a one-man show performed at schools in the tristate area. The actor calls his four years in the Marines extremely helpful in his cultivating the discipline needed to become a successful performer. "It was the longest role I've ever had—a four-year paid job with room and board," Ryan says. "That's how I look at it. And they also instill a drive in you and a 'never give up' attitude, and so those characteristics have certainly risen from that."
"The Au Pair Man" runs July 16–Aug. 1. For tickets, go to
www.monmouth.edu
.
Has Back Stage helped you get cast in the past year?
We'd love to tell your story. Be in the weekly column by emailing
casting@backstage.com
for New York or
bswcasting@backstage.com
for Los Angeles with "I Got the Part" in the subject line.