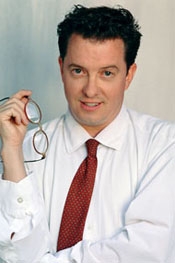 Role: Joanne
Project: 'Come Back to the Five & Dime Jimmy Dean, Jimmy Dean'
There are few actors who can cross gender lines and effectively play male and female roles. With his soft Southern lilt and his 5-foot frame, C. Stephen Foster has always been in touch with his masculine and feminine sides on stage. He's written three plays that featured him impersonating great divas such as Judy Garland, Bette Midler, and Bette Davis. Two years ago, Foster realized he'd become too identified with these characters.
"What happened was, I said, 'I need to be known as a guy,' so I started doing standup comedy as a man. Then when [Come Back to the Five & Dime Jimmy Dean, Jimmy Dean] came about, I thought, 'That's a way to play a great, legit character.' It's not being a drag queen, in my opinion. It's being an actor," he says.
For Five & Dime, director Stephanie Coltrin decided to try nontraditional casting and feature a man in the part of Joanne, a post-op transsexual. Excited about the Aug. 9 Back Stage West casting notice, Foster spent two weeks studying the script and memorizing the character's monologue. He toned down the drag look and came in to the audition in full-out femme, wearing a 1970s pantsuit and Karen Carpenter wig.
"I called my sister and said, 'Sharon, I look just like you. I'm the pretty one!' " says the SAG actor, laughing. Not only did he fool Coltrin, but he shocked two acquaintances at the audition by revealing, "I'm Stephen, Chuck's boyfriend." Their jaws dropped. When Coltrin first saw Foster waiting in the lobby, she thought: "Now where did that woman get that horrible outfit? That is just ghastly. What is that girl thinking?" The fact that Foster fooled everyone is perfect for the play because there is a reveal at the end of Act 1 when the audience finds out Joanne used to be Joe. Foster read his monologue, and instead of it feeling like an audition, Coltrin felt like she was already directing him at a rehearsal.
"He was one of the most prepared auditions I'd ever seen, actually," Coltrin explains. "We played with [the monologue] for quite a while, and it was a lot of fun. He's very flexible and malleable. It was clicking along great. Then there were callbacks, and he came in along with some other guys, but Stephen was absolutely convincing. He was just it... . My hopes are that he fools the audience. Intermission should be interesting. I'm hoping it's a great process. To see it on the stage will be icing on the cake."
It also helped that Foster, originally from Fort Worth, Texas, had the necessary accent. He's hoping to use his gifted voice to develop a voiceover career. He's appeared in commercials for Hewlett Packard, the Colorado Lottery, and the Southern Nevada Water Authority. Repped by the Gar Lester Agency, he's currently shopping around a sitcom pilot about an undercover cop who wears disguises. For more on Foster, visit www.myspace.com/divaworks.
Come Back to the Five & Dime Jimmy Dean, Jimmy Dean runs Oct. 23-Nov. 4 at the Hermosa Beach Playhouse in Hermosa Beach, Calif. (310) 372-4477. www.hermosa beachplayhouse.com.
Have you scored an interesting role recently thanks to a casting notice in Back Stage? If so, email your story and your headshot to bswcasting@backstage.com with the subject line "I Got the Part!"
Cassie Carpenter can be reached at ccarpenter (at) backstage.com.