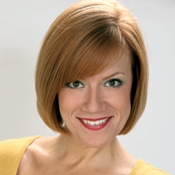 Role: Hailey
Project: 'Movies 101'
Sometimes a performer is forced to switch gears unexpectedly. Oscar winner Charlize Theron's dreams of being a dancer were squashed after a knee injury. Last year, Cae Camille had to make the same transition from dancer to actor after a serious injury shredded her hamstring.
"You go through almost a depression when you come into an injury," says Camille, who earned her MFA in choreography at the University of California, Irvine. "It's literally like somebody died. It's something that you'll never have again. I really believe [dancers are actors]. They take on different roles. They learn movement in the way an actor would learn dialogue."
It wasn't long before Camille began taking acting classes and submitting herself for parts through Back Stage, but she was nervous about having only dance credits on her résumé. Luckily, filmmaker Christopher Hirtz saw this as a plus and cast her as Hailey, a bold, power-hungry businesswoman, in his comedic feature Movies 101 (www.megahirtzproductions.com).
"We realized she had training. She could take direction. If we told her to hit spots, I'm sure she could do it, so that was sort of like the lead-in," says Hirtz. "It just worked out that, for Hailey, there's a scene where she comes in and gets introduced, and with [Camille's] dancing background, her body is really amazing with physical acting. So it makes it look good."
Hirtz originally cast Camille as a "MILF" character, which was a smaller part, but he realized she'd be a better fit as Hailey -- the larger part Camille wanted -- after the first table reading. "Some people would say she's kind of bitchy, but I'll go ahead and say she's just a little bit misunderstood," Camille says, laughing. "She's just all about feeling good, basically, is her thing. I like playing her. She's a load of laughs."
Movies 101 is still in production, but Hirtz is already very impressed with Camille's attitude on set. "It doesn't matter where I am in the day. If I look at her, she's off somewhere smiling, and she's always happy. She is a great person. She's ready and professional, and that's the kind of person I want on my set," he says. "We don't have a lot of rehearsal time, but what I've asked of her on the spot, she pulls it out every time, and it's amazing to watch."
Camille, a Phoenix native, has a "love affair with daytime television" and dreams of being on a soap opera but would be excited to just be able to support herself through her craft. "Since we've started to shoot the film, I've had the greatest sense of relief, because I just feel like I'm doing what I'm supposed to be doing," explains Camille. "I just feel so peaceful and so back at home. For me, it's all about the performance and that high that you get from touching somebody."
Have you scored an interesting role recently thanks to a casting notice in Back Stage? If so, email your story and your headshot to bswcasting@backstage.com with the subject line "I Got the Part!"