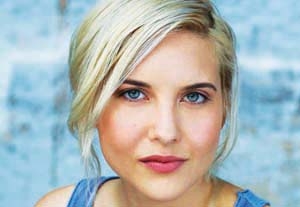 When a role is described as "legendary," the word is often being used figuratively. Unless, of course, that role happens to be in a production steeped in Norse mythology—such as "Frigg's Oath," a short film in which Cara Loften plays the elf queen Celebrindal.
"It's my dream to play strong, courageous, even mythical female characters, which is exactly what this film offered," explains an enthusiastic Loften. "I've always loved that big, boisterous character-acting vein, though given my look, I'm not often cast in that area."
Loften, who is currently nonunion, submitted herself for the film's title role and was called in to audition shortly thereafter. Despite glowing feedback from the producers, who praised her non-native British accent in particular, she couldn't escape the feeling that she was slightly too young for the matriarchal Frigg. When it came down to a choice between her and one other actor for the role, Loften's suspicions were confirmed. This was not the end of her quest, however, but the start of a different journey.
"She was supposed to be playing a goddess who was a mother, so her age didn't really work out in the end, but we ended up casting her anyway because we loved her so much," says the film's writer-director, Alia Victor. Loften "is definitely one of those people who can command a lens, so we wrote a role just for her. It was a no-brainer; we just had to get her in the film somehow."
"They asked, 'How would you feel if we wrote you your own role?' " says Loften. That character was Celebrindal—a name that's apparently an elvish approximation of Loften's own. "I was psyched, of course, because I'd wanted to be a part of the project anyway. I don't see how anyone could not want to be a part of it. You're creating your own mold for this character."
Her elaborate costume of moss and feathers and intricate tribal face paint—which will be digitally enhanced in postproduction—could not mask her commitment to the original creation entrusted to her. "Even when the camera was not on her, when we were just setting up or resting in between takes, she was so in character and so commanding," says Victor. "Only when she wrapped her scene did she snap out of it."
Since moving to New York City, Loften has trained with Teatro Punto and SITI Company and has been fortunate to find consistent film work since graduating from the American Academy of Dramatic Arts in 2010. Nonetheless, she was surprised to learn that many of the dramatic settings for a nine-kingdom epic like "Frigg's Oath" could be found in the five boroughs. Says Loften, "Who knew there were catacombs in Harlem?"
Has Back Stage helped you get cast in the past year? We'd love to tell your story. Be in the weekly column by emailing casting@backstage.com for New York or bswcasting@backstage.com for Los Angeles with "I Got the Part" in the subject line.