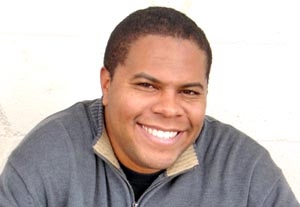 Your first job can affect the way you think about your career, or even acting in general. A good experience can inspire and invigorate, while a bad one might cause you to consider a different path. Carl Washington was lucky. His first acting job was "City Kids," a TV pilot he auditioned for after seeing a casting notice in Back Stage. It was such a positive experience, it set the course for all the projects he has done since.
"It was a small production," Washington says, "but it felt like a big thing to me because it was my first time doing something that was being taped. It really helped me grow, just like it always does when you do something for the first time. You get better as you go at it. It was a small part, but it was major to me."
Director Reg Harper knew at the first audition that he wanted to work with Washington. "Carl came in and read for one of the lead roles," Harper says. "And I thought that something about him did not read right for that role, but there was another part I thought he was perfect for: James the bully. I ended up getting him some other sides to read, and he nailed it when he read for the bully, and I said, 'Yes, that's the character I want to cast you as.' "
It's always a gamble casting someone who is just starting out, but Washington impressed Harper with his strong work ethic. "He was great, professional, on time for rehearsals, and he was always eager and always went above and beyond," says the director. "One day my boom operator didn't show up, so Carl stood in for the boom operator. He kind of wore a lot of different hats on the set without me even having to ask him." They haven't had an opportunity to work together since, but Harper says, "I definitely want to work with him again. We've been talking and want to do more things together."
Since that first role, Washington has landed several dozen small films, including "Unemployed," distributed by Lions Gate Films in 2008, and the recently released "Diamond Dawgs," starring Miguel A. Nunez, a crime drama about rappers taking the head of a record label hostage.
As for the future, Washington plans to keep doing what he's been doing, always aiming for bigger and better projects. "Fifteen minutes of fame is cool, but I'm not trying to be a major movie star," he says. "I just want to be a working actor, to be on that big screen."