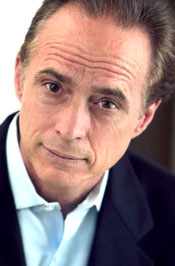 Carson Grant has acted in over 200 films, but the Warren, R.I., native was still on tenterhooks after multiple auditions for the film Liars and Lunatics, a project he read about in Back Stage East.
"The last audition took six to seven hours because they kept rotating us," Grant says. "I auditioned with three potentials, and then a couple days later I got an email, and they followed up with a phone call. The whole crew worked so hard; their casting was amazing." Grant, who is in his 50s, plays the dual roles of Dr. Donovin and Dubious, his alter ego, in the feature film, which is currently in postproduction and was shot in Queens, N.Y., under a SAG Ultra Low-Budget contract.
Liars and Lunatics is the story of James Jamisin, an evangelist who is placed in a psych ward after the tragic death of his girlfriend, Paige. His torment causes him to replay an imaginary trial in his mind. Dr. Donovin is the head psychologist and authority figure in the ward; his alter ego, Dubious, is indicative of Donovin's self-doubt.
Grant admits it was fun yet challenging to play the dual roles: "I'm a really nice guy, and the character [of Dubious] is egocentric and hard-edged, so I had to pull out the negative aspects of me to attribute to the role."
The SAG, AFTRA, and Equity member has been passionate about performing since he was 13 years old; he moved to New York at 19, set on making his dreams materialize. He asked his next-door neighbor about her acting coach, who happened to be the renowned Lee Strasberg, and, as they say, the rest is history.
Grant recently starred in Summer Dayz, a musical film he also found through Back Stage and a production that returns him to his singing roots (he was in a rock 'n' roll band years ago). Another recent project is The House Is Burning, seen at the Cannes Film Festival. Roberto Munoz, the director of Liars and Lunatics, praises Grant highly: "He's a very compelling actor. His profile really screamed that he was right for the part."
Grant's advice to fellow actors is simple: Follow the ABCs he's created for himself. A is for "audition sense," knowing what to prepare for auditions and finding your niche; B is for "business sense," submitting through Back Stage, reading Ross Reports, allocating funds every week for materials; C is for "common sense," knowing how to weed out scam artists and "follow your instincts, not your ego" D is for "driving sense," performing regularly, taking classes, practicing your craft; and E is for "exit sense," which, he says, means "know when to leave an audition; exit your emotions. Look for and enter the next audition fresh and enthusiastic."
— Leesa Davis