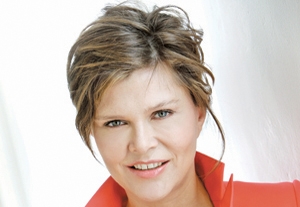 "It's a little bit like bodysurfing," says Charlotte Schiøler. "You either hit the wave or you don't." This multifaceted performer definitely caught the wave when auditioning for Shakespeare's "A Midsummer Night's Dream," landing the parts of Titania and Hippolyta in the Tennessee Shakespeare Company production.
Flipping through pages of casting notices in Back Stage, Schiøler was determined to find the perfect part, she says. After a 30-second audition for the play in New York, the non-Equity actor spotted another opportunity to be seen again two weeks later in Tennessee. "I knew in my gut I had to go back to audition," she says. "Titania is one of my favorite roles, and even if it meant flying all the way from New York City to Memphis, nothing was going to stop me from reading for that part."
But something did. She was booted from her flight to Memphis for listening to her MP3 player and missed her audition appointment. Fortunately, the stage manager gave her a second shot, and $900 later, she was ready. "Finally, my life turned into an exquisite delight," says Schiøler, who was born in Denmark. "The audition turned into a creative work session with the director, rather than the usual one-minute-to-do-your-monologue audition." And the atmosphere created by director Dan McCleary was positive reinforcement, she says.
Not only did Schiøler's multilingual abilities impress McCleary, but her "maternal furiousness and sexual exoticness" added layers to the character, he says. "And her skill with the language interested me an awful lot." McCleary has directed numerous shows around the country and has noticed that many younger actors lack a classical repertoire. But that's not true of New York actors, he says, especially Schiøler: "She is someone who goes after the roles in any particular production. She continues to be aggressive, and that quality about Charlotte is what initially drew me to her."
Although acting is her main focus, Schiøler also dances, choreographs, writes, and stages her own plays. In 2005, three of her plays, in which she also performed, were presented at the New York International Fringe Festival under the title "Yes, We Have No Bananas!" After a three-month tour of North America, she shuttled back and forth between France and the U.S. for a couple of years, working with the award-winning African-American choreographer Elsa Wolliaston, who has a dance company based in Paris. Schiøler finally settled in New York last year.
"I'm in the process of writing a screenplay," she says. "I'm also working on a documentary that I started filming about Bwiti dance rituals in Gabon, Africa," an interest sparked by her work with Wolliaston.
But right now she's busy making love to an ass in Memphis, where "A Midsummer Night's Dream" runs Oct. 6–25.
Has Back Stage helped you get cast in the past year? We'd love to tell your story. Be in the weekly column by emailing casting@backstage.com for New York or bswcasting@backstage.com for Los Angeles with "I Got the Part" in the subject line.