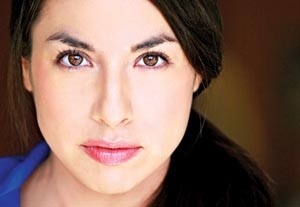 Once in a while a simple hunch, with perhaps a bit of faith, may provide sufficient confirmation that a play is just right for an actor. With a heavy theater background and a strong foundation in the church, Cinthia Leon realized that a casting notice for 'Viva Cristo Rey' blended her craft and her faith. It was an exceptional opportunity on BackStage.com that she could not bypass.
Initially, the title of the play (meaning "Long live Christ the King") was the hook for Leon. After beginning research, she says, "what grabbed me was the entire play. Every character is unique, and without one of them you're missing something." The role of Ana Maria Pro gave the actor a call of duty: to portray a real person with little documented history to go on. Much of the play is about Ana Maria's brother, Miguel Pro, who was executed in Mexico in 1927 for being a priest.
Leon's journey to her character was lengthy. "On a personal note, I had been praying and trying to really find what this person was about," she says. "There was not a lot of literature about Ana Maria." After coming across a family portrait of the Pros, Leon noted that Ana Maria was the only one wearing a white dress, providing a clue to her role in the family: "She was the caregiver. The mother passed away, and she took care of all her brothers."
Peter Gallagher, president of the G.K. Chesterton Theatre Company, instantly knew Leon was "a professional." He says, "She has a certain quality about her that gifted actors can show you in an audition. After her first cold read, we knew that she would be in the mix, and from there, it was just a matter of getting the family put together." Working with director Angel Duran, Leon welcomed being "challenged" and considered her experience "beneficial." She is quick to note that benefits only come with some degree of effort: "My mindset when I go to work is that I am there to work. [Angel] would push me, and I would keep going."
Rehearsals in a church, complete with bells ringing at strangely opportune times, only heightened Leon's experience. In a moment when the villain of the play spews hateful dialogue, followed by the toll, she recalls, "Those bells would go off perfectly. There was something symbolic about it. It was not a cliché moment—it was beautiful." Just as moving were the performances. There were several after-show discussions, with audience members sharing their personal experiences about the religious persecutions in Mexico during the era of the play. "Coming from musical theater, doing 'Guys and Dolls' and 'West Side Story,' you touch people," Leon says. "But, it's completely different when you have a true experience. People [in the audience] are crying and talking about their actual families."
Leon's L.A. theater roots provided one of the most valuable lessons she has learned to date, taught by her sixth-grade teacher Dave Ferris. Leon remembers, "I learned at 10 or 11 years old that even though you perform your best at an audition, you may not get the part." Of casting Leon as Ana Maria, however, Gallagher says, "Cinthia is probably a little younger than we had anticipated going, but she was so good, we couldn't let the age thing get in the way."
Leon says she gained another lesson with the project: "I've learned a lot about what it means as an actor to really do your research." She also acknowledges being taken with G.K. Chesterton Theatre Company's mission of producing work based on true stories of faith and heroism. A hunch tells her to pursue more work with the company.
For more information, visit
www.cinthialeon.com
.
Has Back Stage helped you get cast in the past year? We'd love to tell your story. Be in the weekly column by emailing casting@backstage.com for New York or bswcasting@backstage.com for Los Angeles with "I Got the Part" in the subject line.