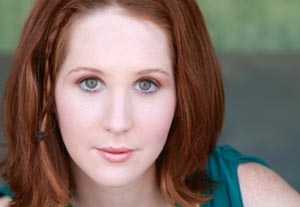 Fantasy became reality for Clare Fogerty when she booked the role of Ariadne in "Kaptara," an animated sci-fi/horror feature based on a creature of Greek mythology: the Minotaur. Fogerty makes it part of her daily routine to check Back Stage for auditions and was excited to find this listing. "It was so different; you don't see a lot of period scripts, especially not Greek tragedy, so I jumped on it because it's a genre I really like," says the actor.
The submission process was also different for her: She recorded her audition at home and submitted through "Kaptara's" Facebook page. She was pleasantly surprised to get to audition in the studio. "You don't want to alarm the neighbors, especially when it's a horror/sci-fi genre; people will question why you're screaming," says Fogerty about the pitfalls of recording auditions at home.
She was pleased to have a second chance to go all out with her performance in the studio. "I got to do a lot of the screams," she recalls. "There's tons of different types of screams for the movie—anything from 'The monster is throwing you across the room' to 'Your intestines are being ripped out.' I got to show them a range."
That range is what impressed writer-director Patrick Canning, who co-created the project with executive producer James de Ciutiis. "Clare was the best," says Canning, "I knew right away during the audition. Not only did she have the right kind of voice for the part, but she took direction very well and had a great range of emotion." That range certainly piqued the interest of de Ciutiis ,who instinctually rushed into the studio from a room next door after one of Fogerty's screams. "It was so primal," recalls Canning, "[de Ciutiis] came running into the room to see if everyone was okay."
Canning was not only impressed with her voice but with her movements as well. So he asked her to participate in the motion-capture portion of the film. "She was very animated in how she was delivering the lines" says Canning, "so I thought she'd be great in the suit as well." Fogerty was the only voice actor to also participate in motion capture.
"It's something you've seen in the behind-the-scenes of all the blockbuster films," Fogerty says about the special dotted suits. "I've got a background in dance and martial arts and yoga, so I was like, yeah, I'd love to do the motion for the character."
Fogerty, originally from Pennsylvania, attended Point Park University's Conservatory of Performing Arts and names Zeva Barzell Canali, her stage movement teacher, as her favorite. Fogerty continues to study in Los Angeles and has gone through programs at Upright Citizens Brigade and the Groundlings to hone her improv skills.
Fogerty's next goal is to land a TV role on a crime drama such as "CSI" or "Criminal Minds," while also continuing her pursuit of voiceover work.
Her final thoughts on "Kaptara"? "It was a new experience for me, definitely something I would like to do again. I worked with a great team of people and can't wait to see it," she says.
"She's a great person," says Canning. "Very easy to work with, great sense of humor, but she's also a very serious actor and takes her craft very seriously. I would absolutely work with Clare again; she's a consummate professional and very good at what she does."
NOTE: Clare Fogerty is represented by Gail Marx at the Daily Talent agency and managed by Delora O'Brien of Pillar Entertainment. She can also be found in the Back Stage actor database and on IMDb.
Has Back Stage helped you get cast in the past year? We'd love to tell your story. Be in the weekly column by emailing casting@backstage.com for New York or bswcasting@backstage.com for Los Angeles with "I Got the Part" in the subject line.