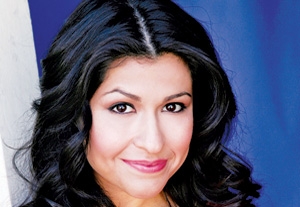 As a child, Claudia Vázquez loved watching Disney movies and singing the music. "When I moved to L.A. three years ago to pursue my acting and singing career, and Disneyland was so close by, I thought if the opportunity ever presented itself, I would love to work there at least once, to be able to sing the music and be part of the stories," Vázquez says. "But I wasn't sure that, as a Latina, I fit what I thought was the 'Disney mold.' "
In February, she saw a BackStage.com casting notice for an open call for Disney's "Touch of Magic," a family-friendly, interactive mini–musical comedy show that would be presented at Latino festivals in California to reach out to Latin American families. The breakdown fit Vázquez perfectly. "They were seeking bilingual talent, which was so exciting to me since I am fluent in both Spanish and English," she says. "I have experience in hosting, public speaking, acting, musical theater, and of course singing, so it was a job that combined everything that I did in one."
Vázquez arrived early at the audition and sang her prepared songs. She was then asked to learn a song from "The Little Mermaid" in Spanish. Thankfully, she had the day off from work: The casting director asked her to stay the whole day and be partnered with many different actors.
Sue Hamilton, show director for Disney Creative Entertainment at Walt Disney Parks and Resorts and director of the show, was impressed by what Vázquez brought to the table. "Claudia had a freshness and a wonderful energy about her that made you like her instantly, and that's what we really wanted," says Hamilton. "She was open, flexible, and a really good listener. We probably had her audition five or six times that day, and every time, she would come in and try something different. She wasn't stuck on just one thing. That's a very important aspect of being an actor. A lot of people are talented, but you give them direction and they're not open to changing or they don't have the skills to change on a dime. Claudia did." A week later, Vázquez received a call asking if she would join the cast.
Vázquez says that even though the show was demanding, it was one of her best experiences: "It was not easy singing 15 shows a day at the festivals. I would sing for an hour straight each time. Doing that shows you where your weaknesses are and where you need to grow as a performer. But the audiences loved us. Any kid who comes in to see a Disney show loves you from the beginning. They are the best audiences to perform for. It was really fun and encouraging. Plus I got to wear a pink, sparkly Disney princess–like dress and sing a medley of Disney songs in Spanish, which was so exciting."
Vázquez's hard work in the show paid off: Disney noticed and asked her to come back and be the host of this year's New Year's countdown at Disneyland. "There is a lot to be said for an actor like Claudia who is always looking to improve what she's doing," says Hamilton. "That matters a lot in the world of theater and Disney. There's no time to complain. You get out there and you do your work, and you know that in the next show coming up you are going to get out there and do your work just as well if not better."
Says Vázquez, "I hope I can encourage other Latinos and minority actors who say that there is no work that there are opportunities out there for us. Disney is such a diverse company, and they reach out to the Latinos. Hopefully, other companies will start recognizing how big of a market it is too."
For more on Vázquez, visit www.claudiavazquez.com. She is repped by Theatrically Essential Artists Group and RPM.
Has Back Stage helped you get cast in the past year?  We'd love to tell your story. Be in the weekly column by emailing casting@backstage.com for New York or bswcasting@backstage.com for Los Angeles with "I Got the Part" in the subject line.