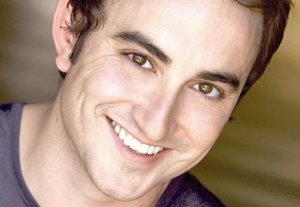 When Clayton Farris got the part of Paul in "Kiss Me Kate" at the Glendale Centre Theatre, he knew a dream of his would be realized: He'd get to sing and dance to the iconic "Too Darn Hot." One of Cole Porter's most loved songs, it's a showstopper that never fails to get toes tapping and audiences applauding. Director Tom Robinson knew finding the right actor for the role was vital.
"It's very important," Robinson explains, "because it's the top of Act 2, so [the character, Paul] really brings the audience back in. It's got to have that charisma, that outgoing, go-getter energy of bringing the masses together to a focus. At that point in the play, all the characters are very tired and hot, and nobody wants to be there, and he comes out and says, "Hey, there's better life here. Let's have some fun," and he brings out this 12-minute dance, basically, for the actors and the audience."
Robinson knew at the first audition that Farris might be the one to play Paul. "Clayton just is so energized and energetic and very comedic with his demeanor," says the director. "When he came in the door of the audition room, he had a commanding presence. The other actors were a little timid, didn't quite know what to expect, but Clayton had prepared himself. He seemed to be such a confident individual and just came in with such a good presence and a warm charisma that made it pretty evident that we needed to see him some more."
Farris, who found the notice in for "Kiss Me Kate" in Back Stage while he was in a Hollywood coffee shop, says the role is different from what he's used to playing, but it's a challenge he enjoys. "I feel like I do character work on a broader scale, and I choose projects where each time it's going to be a different character, not something I've done before," says the actor. "I was in 'Eurydice' [at the Hayworth Theatre in 2009] and played this creepy, over-the-top kind of otherworldly character; before that, I played Action in 'West Side Story' at the Hudson Backstage, and he is more like this hard New York street kid. Paul is this laid back, kind of cool, sexy-type guy."
Like a lot of actors in L.A., Farris is pursuing a career in TV and film but still loves working in theater. "It's nice to have a place to go every night and actually do work and be creative," he says. "When you go to a commercial audition, you're there for an hour, sitting around, and then you go in for two minutes, and you agonize for the next two days. It's nice to have that break to go do a show."  
Farris says working in theater has helped his screen career: "It's not likely that anything in theater is really going to pay my rent, but I have an agent [Jana Luker at the Jana Luker Agency], and meeting people doing theater is how I got [her]."

For more on Farris, visit claytonshanefarris.com. "Kiss Me Kate" runs Feb. 11–April 3 at the Glendale Centre Theatre, 324 N. Orange St., Glendale. glendalecentretheatre.com.


Has Back Stage helped you get cast in the past year? We'd love to tell your story. Be in the weekly column by emailing casting@backstage.com for New York or bswcasting@backstage.com for Los Angeles with "I Got the Part" in the subject line.