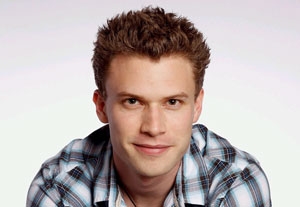 Getting the chance to sing at "the happiest place on earth" takes work. Boundless energy, welcoming smiles, and enormous talent are required to be part of the multitude of productions throughout
Disneyland Park
.
Singer Cody Morgan was "on the lookout for something new" while viewing casting notices through his subscription to BackStage.com, and he came across one for a turn-of-the-century barbershop quartet called the Dapper Dans. "First of all, I saw that it was for Disneyland. Who doesn't want to work at Disneyland?" he says. "Then, I also noticed that they were searching for a baritone with my range specifically." After recently graduating from Chapman University, where he performed plenty of a cappella singing, Morgan figured that this may be perfect for him.
Michael Serna, casting director for Walt Disney Parks and Resorts, had seen well over 100 performers for the group. "It's an involved process," he says. "But we tend to make our final decision based on their vocal strength and strong ability to part sing."
Morgan describes the two-day audition as "strenuous." On arrival, auditioners immediately were handed sheet music to learn tight harmony parts prior to being teamed up into quartets. Sight-singing right off the bat appeared daunting, but, Morgan says, "some of the stress was taken off because there was a music director who actually went over the music with us before we auditioned."
Serna saw in Morgan "a charming young man with a great presence and a strong voice." Two weeks later, Morgan received a call from the casting director; evidently he was in the right key. Morgan says, "They wanted me as the baritone, so it was great."
After the demanding audition process and booking the job, Morgan faced the intense rehearsal and training period required of new Disneyland cast members. "[The schedule] was 10 a.m. to 7 p.m. every day for three weeks. That's eating, sleeping, and breathing Dapper Dans," he says. Then came the put-in day, when the creative team decided that it was time for Morgan to go out into the park. He recalls, "You're the only new guy with all the veterans, and it's basically trial by fire." Armed with the repertoire of 40 songs, tap-dancing choreography, and a routine that involved playing 100-year-old chimes, the baritone set out with his three new cohorts. Serna says, "Cody is enthusiastic and has an infectious spirit. These are qualities we love having in our cast members."
After five months as "the new guy" in the quartet, Morgan feels more comfortable. "Now that I've been doing it, a lot of it is becoming second nature, so I can relax more and interact with the audience, and it's fun," he says. The experience of this gig can only be of service to the singer's aspirations. "I would love to be a solo recording artist," Morgan says. "I'm currently taking lessons with vocal coach
Seth Riggs
, who taught Michael Jackson and Ray Charles. I'm working with him to expand my range."
From a modest beginning in show choir at Burbank High School to Dapper Dan baritone, Morgan hopes to mirror the career of Michael Bublé or Josh Groban and seems on the right path. He adds, "I'm in the realm of where I want to be, which is music. I'm happy where I am."

For more info, visit www.cody-morgan.com.
Has Back Stage helped you get cast in the past year? We'd love to tell your story. Be in the weekly column by emailing casting@backstage.com for New York or bswcasting@backstage.com for Los Angeles with "I Got the Part" in the subject line.