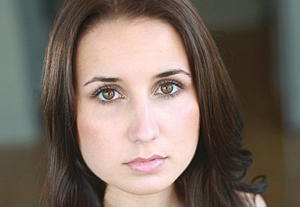 After seeing the casting notice in Back Stage, Danielle Lozeau auditioned for the role of Olivia in "Red Hook Black," a feature film (for which the producers plan to apply for a Screen Actors Guild contract) about six people living in Red Hook, N.Y. To ready herself for the audition, Lozeau found that she had to make adjustments to her usual process.
"I was asked to prepare a monologue of my choice, and being a film actor, I'm so used to getting sides to prepare, and I felt it might be a setback for me to get a monologue down in a couple days," she says. "Luckily, unlike most film auditions, I had received the script beforehand, so I was able to read it and decide on a monologue I felt fit the character to a T."
According to director Luis Landivar, Lozeau's careful preparation was quite evident in her audition and helped her get cast. "Danielle is a versatile, prepared, and talented actress," he says. "She was perfect for the role. We felt her choice of monologue was appropriate for the character and reflected highly upon Danielle's preparation for the part. She took direction well and was believable."
For Lozeau, who is SAG-eligible, the chance to play Olivia and the quick, collaborative rehearsal process made the filming experience particularly rewarding. "When I read the script, I fell in love with Olivia," she says. "I loved the emotional roller coaster she was on, and I loved how real she felt…. I wanted to show her vulnerability yet not let her pity herself." She adds, "It was a very quick rehearsal process. We rehearsed all the scenes in three days before shooting.... If things were seeming a little weird, we would collaborate and try it a whole different way. We got to build chemistry really quickly and find new things within each other."
Lozeau began acting when she was 14 and has several indie and mainstream film credits, including "The Eye," starring Jessica Alba, and "Legion," in which she plays a demonic apocalyptic child. She hopes to continue to do independent films that she's passionate about. "I do want to continue that creative flexibility to imagine a life outside of my own," she says. "I am attracted to really dark, gritty scripts, and I don't look for roles that are really identical to who I am in any way, because for me, my imagination is one of the most important parts of why I love this."
Lozeau looks to her mother to keep her grounded while facing the challenges of pursuing her career. "She makes sure I'm not flying off into la la land," the actor says. "She always backs my decisions and always tells me after any audition to 'shrug it off and keep moving; it's a big market out there.' "
Has Back Stage helped you get cast in the past year?  We'd love to tell your story. Be in the weekly column by emailing casting@backstage.com for New York or bswcasting@backstage.com for Los Angeles with "I Got the Part" in the subject line.