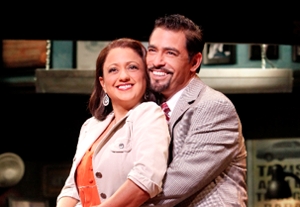 When Danny Bolero heard about the musical "In the Heights" in 2006, he was instantly drawn to it. "It's very seldom that there's a musical that speaks to Latinos," Bolero says. "It felt like this was my life put on stage to music that I love. It's my family's story. My parents, who were Mexican, came here with very little education, and they wanted more for [their children]. My dad worked three jobs. They got a house for us; they put us through private school. It's that same immigrant story that's in the show. I had to be a part of it."
East Los Angeles native Bolero, who studied under famous Mexican actor Margo Albert at Plaza de la Raza for many years, was performing in Ed Begley's "Cesar and Ruben" at NoHo Arts, in North Hollywood, Calif., when his cast members told him about the audition. It was an agent-only call; Bolero didn't have an agent, but he didn't let that stop him. "I went and crashed the audition," Bolero admits. "I was called back for Kevin, the father role, but it stopped there."
Even though he didn't get the role, he continued to work on the material. "I hired a coach. I went back to voice classes. I wanted to make sure I crossed all my T's before I went in to audition for it again," says Bolero.
Two years later, he heard they were seeking a replacement for Kevin, but again he couldn't get an audition. Then he opened up his copy of Back Stage and saw an open call for ensemble-singer (chorus) replacements. Determined to be a part of the show, he decided to go. There were more than 300 people there, and it took him all day to be seen, but his persistence paid off: He was called back twice and then flown to New York to sing for Lin-Manuel Miranda, creator and star of the show. Three months later, in January 2009, Bolero was hired for two weeks as a vacation swing to play Man 6/Piragua Understudy on Broadway.
This isn't the first time perseverance and an open call helped Bolero get to Broadway. In 1993 he saw an open-call notice for the Broadway revival of "Joseph and the Amazing Technicolor Dreamcoat" in Drama-Logue, the forerunner of Back Stage. Without an agent, he went to the call, got cast, and made his Broadway debut in the role of Napthali. "Whether you do or don't have an agent, you have to do the legwork yourself and get out there," advises Bolero. "Because you never know. I buy Back Stage religiously every week [so that] I can be prepared and know what is happening and what is coming up."
After his two weeks were up on "In the Heights," he flew back to Los Angeles, but a month later he was asked to rejoin the Broadway cast. During that two-month run, Bolero auditioned to play Kevin in the first national tour and booked his dream role.
Music director Alex Lacamoire says Bolero nailed his audition. "Danny has great acting chops, and he really understands the role of Kevin," says Lacamoire. "But what I particularly love about him, as a music director, is his singing voice. Danny's vocal quality is very different from any of the other actors we've had in the show, let alone the role of Kevin. It has a great timbre, and I've told him that what I love about his sound is that it's very 'Mexican,' and I can say this because I'm Latino! It's full, with a bright quality in the higher register when he belts, like a great mariachi singer."
Although Bolero does not have children, he feels like he understands the role of Kevin because of the relationship he had with his parents, both of whom had Alzheimer's disease. "I was their guardian, their caretaker, for four years," says Bolero. "It was a curse, but it was also a blessing because I got to spend so much time with them and see them in a different light. A lot of that is what I bring onto the stage when I perform [the role of Kevin]. They are with me every time. It's in honor of them."
Bolero has been with the touring company since October 2009, and Lacamoire has valued the actor's strong work ethic. "Danny is always looking for ways to improve and to grow," says Lacamoire. "I appreciate that he asks for his notes and continually works on his craft. He is wonderfully consistent in his performances, which I also love."
Touring with "In the Heights" has been an exciting experience for Bolero. "It's the first time a show like this has toured the U.S.," he says. "Sometimes people get it and sometimes they don't, but what matters is that they were in that seat watching the show and they saw a slice of life that maybe they've never had the opportunity to experience before. The fact that they were in that audience watching us is a big step, and I'm just so proud to be a part of it."
The tour is currently in Los Angeles, and Bolero is thrilled to be back home. He recently got to meet Mayor Antonio Villaraigosa, who hosted a gala party for the company at the mayoral mansion. Villaraigosa admitted he identified most with Bolero's character, explaining that giving his son Antonio Jr. a good education at Princeton was extremely important to him. "That was when I really knew my work was striking a chord," Bolero said.
As much as Bolero loves New York and has enjoyed touring with "In the Heights," he is extremely proud to perform it in L.A. "When I walked into the lobby of the Pantages and saw my picture on the wall, that was a dream come true," says Bolero. "Broadway and New York are a long way from East L.A. To bring this show home is incredible."
The national tour of "In the Heights" runs through July 25
in Los Angeles. It has added a run in Tokyo.
Danny Bolero is a member of AEA, SAG, AFTRA, and AGVA.
He is represented by CL Inc. and Stage 9 Talent
(Carol Weiss and Blossom Wagner).
Has Back Stage helped you get cast in the past year?
We'd love to tell your story. Be in the weekly column by emailing
casting@backstage.com
for New York or
bswcasting@backstage.com
for Los Angeles with "I Got the Part" in the subject line.