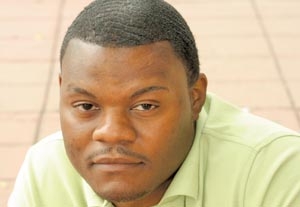 Having faith is important for all aspiring actors. But Dariean Henderson's faith factored in a little more when the actor responded last year to a notice for a nonunion feature called
True Riches
, based on the Old Testament's Book of Job. Those auditioning were asked to be familiar with the story.
"It's a beautiful story, and I had been wanting to work on something spiritual-based," Henderson says. "That's the main thing that really intrigued me." After mailing in his headshot, he was called in to audition for the role of Pastor Graham, and he made an impression as soon as he walked in the door.
"A lot of people that came in for the role wore a lot more earth-tone colors, and they kind of all had the same look," casting director Marie Sorten recalls, "but Dariean came in with this bright-colored shirt and this big old smile, and during the casting process we all remembered that." Although he originally submitted for the role of Pastor Graham, they felt that his look was too young. However, they knew they wanted to work with him, so they cast him as the Carjacker instead.
"He wasn't all that close to what we had in mind," Sorten continues. "But his audition was just fabulous, and he brought a new image, an idea, that we were looking for, and so we loved him and decided to work around him."
Henderson got his start in acting when he was literally approached by a man on the street: a manager who liked his look. Henderson was cautious at first, but the man pointed him toward acting classes, including Mike Pointer's "Hey, I Saw Your Commercial" class. One class turned into several, and Henderson started working soon after. His first commercial was a CarMax ad that ran for several months on local TV. It wasn't long before Henderson knew he'd found a career he loved.
Henderson's strong work ethic shone through on the set of
True Riches
, says Sorten: "[He] is a very efficient person. He is hard-working and very detailed. He even took the extra effort to study the other characters that were involved in the project, which a lot of people don't do. That he was such a hard-working guy made it so much easier for us to get the project done."
Henderson says his No. 1 goal for the future is to gain more experience. "That's the main thing," he says. "Not just as an actor but in all aspects: to learn how everything works on set, to learn the director's job, the producer's job, learn how it all works as a whole—and I think that will make me a better actor. Not just understanding my craft and understanding the ability to express myself but everything else that makes it go together, as far as filming, as far as set designer's job, costume designer's job, lighting people, what they are responsible for—just learning how everything clicks and developing a better editorial mind as an actor, so when I am on set or during filming I'll know how to gauge the cameras to make the editor's job easier."
Has Back Stage helped you get cast in the past year?
We'd love to tell your story. Be in the weekly column by emailing
casting@backstage.com for New York or bswcasting@backstage.com
for Los Angeles with "I Got the Part" in the subject line.