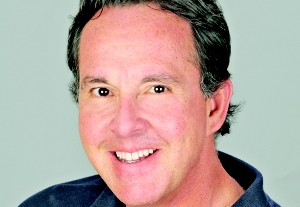 Den J. Economou spent decades working in transportation and travel in north Texas before pursuing a career in acting, his lifelong ambition. "I raised two children, and I knew that my time with my family would have been sacrificed in a very big way if I was to have pursued it at an earlier age," Economou says. "I made a conscious decision to put all that aside until my kids were grown and in college and my wife and I had some free time on our hands."
Only months after he started his acting training, Economou decided to answer a casting notice in Back Stage for an experimental NYU short film called "Places Without People Without Places." It follows four characters as they try to come to terms with their loneliness.
Economou was particularly interested in the role of Tom, a middle-aged man coping with personal tragedy and the end of his marriage. The Dallas-based actor was so taken with the character that he wrote his own monologue the night before he flew to New York to audition. "I sat down at my P.C. and it all just kind of fell together," he says. "I got into it on the flight out there and did it when I got to NYU…. It all kind of happened within 24 hours. It was kind of weird."
"This isn't something I usually see from an actor in an audition," says director Alex V. Blumberg. "Most actors seem to have a reservoir of monologues from well-known movies or plays that fit the type of characters they like to play. Not that there's anything wrong with that, but it kind of implies a view of the character as an archetype rather than as an individual."
But according to Blumberg, it wasn't just the monologue that got Economou the part; it was also the way he performed it with the same sensibility that had allowed him to write it so convincingly.
"He was the first of a few actors to audition for that role that day, but to be honest, I had already cast D.J. in my mind and was picturing him interacting with the other characters," says Blumberg. "It was a gut feeling, an instinct, and one that ultimately proved correct. His performance was physical, natural, unconscious even. It really felt like there was something inside this character that resonated within D.J."
"Places Without People Without Places" will be making the rounds of student film festivals once postproduction wraps later this summer, and the director hopes to enter it into New York–area festivals as well.
Economou has continued to land roles since finishing "Places," two of which he found through Back Stage: in the independent films "Stained Glass," directed by Tiger Moon, and "Revelation," directed by Christine Chen. He also traveled to Philadelphia recently to shoot "Koofsah Kedusha," an NYU film written and directed by Evan Cutler Wattles, the assistant director on "Places."
Though his résumé is growing quickly, Economou will never forget his time working on "Places," where he believes he had his first breakthrough as an actor. "It was totally meaningful for me," he says. "I realized when I left there that I was now a thespian. I liked what I was doing, and I realized that this was part of my life and I really enjoyed this."