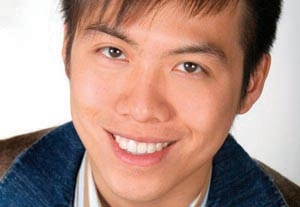 It takes a brave person to leave his homeland, family, and successful career behind to pursue his dreams of stardom in Los Angeles. In 2007, Derek Lui was in Hong Kong, hosting lifestyle TV programs and movie premieres for such blockbusters as
Transformers
. And after a year of full-time training at the Lee Strasberg Theatre & Film Institute in Los Angeles, Lui felt prepared to start auditioning for roles through Back Stage.
Acting teacher Eugene Butler "changed my life," says Lui. "He always told us there's no excuse. No matter how little time you have or how you just got the sides or script an hour ago or 10 minutes ago, you still have to make it happen." One day, Lui attended a callback for a show made up of 25 monologues, titled
Sex, Relationships and Sometimes…Love
, and he found himself in the kind of situation Butler had warned him about.
"He has a lot of balls, this kid," says writer-director Joelle Arqueros. "We had auditioned maybe 17 other actors from China and Japan, and I couldn't find anyone right for the part. I was thinking about cutting it, and then Derek came in, and he had the courage to audition in front of a room full of actors that were already cast in the show. He didn't show [his nervousness], and he was fantastic, and I knew there was no denying that he had to be a part of it."
Lui's monologue, Sumi's Hands, concerns a Japanese man, fresh out of a sexual relationship with a much older American woman, feeling nostalgic about his first, more innocent love in Japan. "At the same time, it's also about a person from a different culture coming to this new place, thinking he could find something new while maintaining his cultural roots," explains the actor.
"Even though I'm from Hong Kong, I can still relate to Japanese people," he says. "Chinese culture is similar in terms of expressing affection. In Asia, we don't hug people. We usually shake hands or say hi, and I remember when I first came to Strasberg, people started to say, 'Hey, Derek, hi!' and then they would start to open their arms and try to give me a big hug, and at first I was like, 'What am I supposed to do?' Then I realized it's actually a usual practice, so I picked it up very quickly, and now whenever I see my friends I hug them."
Producer Nicolas Read says he and Arqueros even wrote a letter for Lui so he could stay in the States because they "want him so badly" for the show. "We all know it's a really tough business, but he's got the discipline," says Read. "He's got the work ethic. He's got the talent. And if he has the drive, he can carve himself a career in this business. He's also fun to have around as well, just as a person. He always has a smile on his face. That's important."
The show has been running in New York for five and a half years; it's running in Long Island; and the L.A. version has an open-ended run every Sunday at the Actor's Playpen. "We're also making it into a film soon," reveals Arqueros. "And we're absolutely open to new talent."
Lui is currently seeking representation. For more on him, visit
www.dereklui.com
. For more on the play, visit
www.sexrelationshipsandsometimeslove.com
.
UPDATE
Derek Lui
, the subject of the April 30 Who Got the Part, landed an agent.
"I just signed with an agent one month ago," said Lui. "I am now represented by the Bonnie Black Talent Agency, and I am glad to have a new start in my acting career. I just shot a MV a few days ago, and I am working hard to achieve my goal as an actor. Thank you so much for the article you wrote because it definitely helped me get an agent. Thank you, thank you, thank you!"