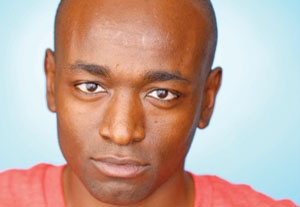 Life experience was definitely a contributing factor when Derrick Scott booked the role of Howard in the independent short film "Without Sanctuary." Scott is the second lead character to be cast through Back Stage by writer-director Robert Terry II, whose film deals with racism in an alternate United States where racial tensions have escalated over the years. Terry sums up his experience with Back Stage and the response of its actor- readers as "awesome," adding he was impressed by their professionalism.
Scott submitted his headshot to the project after reading about it in casting section of the weekly print publication. "I just go buy it every week, every Thursday," says Scott, describing his ritual. "The character sounded just like me. I thought I'd be perfect for the role."
The audition was a cold reading, but Terry had posted bios of the character for the actors to read before their auditions. Scott found this very helpful. "It explained a lot about Howard," the actor says. "By the time I went into the room, I had a clear idea of how I wanted to play him." What he wasn't prepared for were the personal questions asked of him before the scene, which led to Scott opening up about his past.
"I told them I was a criminal," he recalls. "I think the honesty just came out before I knew what happened." When Scott was 18 he spent time in prison, but that helped turn around his life. "I just got taken down the wrong path, and it steered me back into the direction I needed to go," he says.
Scott thought he'd blown the audition at that point, but then he felt he gave one of the best reads he has ever done and credits his honesty with opening him up emotionally to the character. "I'm not the type of person who really likes to hide things that are in my life," he says. Terry's reaction to this revelation was, "That tells me he has life experience. It's like a boost in this game. The more you experience, the better your rockets are."
"I always knew I wanted to be an actor, ever since I was little," says Scott, who adds that "Silver Spoons" was his initial inspiration to act. "I used to watch that and think, 'I could do this'; it seemed like so much fun," says Scott. "I knew they were acting, but it looked natural, and that's their job. I think that's the point I wanted to reach where it'd be like real life."
Scott took that time in prison to read everything he could about acting. He recalls, "I had books piled as high as my bed: Meisner, a little Chekhov. I took some college courses like philosophy and ethics, which kind of got my mind thinking in different ways." After he was released, he went directly to college, started playing football, and got into theater. He graduated from Hastings College with a degree in theater and moved to Los Angeles shortly thereafter.
It was a big step for Scott, coming from a small town in Nebraska. "The speed, the life, the way people interact with you, just getting used to all the different cultures; L.A's really opened up my mind to a lot of different things," he says. He continued his study of acting by taking classes with John Homa and also at Playhouse West with actor Mark Pellegrino, whom he credits as his most influential teacher.
"Just the way he goes about the craft, the preparation and seriousness that he brings, you can never be too prepared," says Scott. He is currently coached by Suzanne Morris, daughter of Eric Morris, in a process she likes to call "uncorking," which is "like a spiritual, emotional kind of coaching," as Scott describes it, adding she has helped him "open up and not be apologetic for anything."
Terry found Scott "very laid-back" and "easy to work with" on set. "Professional, I really had a sense of trust," says the writer-director. "I trusted him. I think [Scott] has a promising career, and I can't wait to work with him again."
Scott is preparing for his next acting job, a play called "Before Sex, After Sex" at the Hollywood Fight Club, which opened May 4. He is currently seeking representation and can be found at
www.imdb.me/derrickascott
or via email at
drrck.scott@gmail.com
.
Has Back Stage helped you get cast in the past year? We'd love to tell your story. Be in the weekly column by emailing casting@backstage.com for New York or bswcasting@backstage.com for Los Angeles with "I Got the Part" in the subject line.