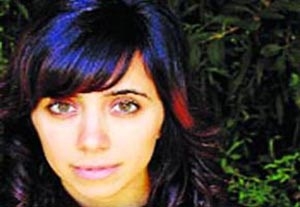 When Dina Percia attended the premiere of Sarah Ruhl's
Eurydice
in New York, she felt instinctively that she was meant to play the title role. "It's one of my favorite plays, one of the roles where you think, 'I want to play it. I need to play it,' " Percia says. A few years later, she has gotten her chance: She was cast as Eurydice in Range View Production's staging of
Eurydice
in Los Angeles.
Percia had recently moved to L.A. from New York, where she'd been pursuing a career in theatre since college. She'd become a nanny part time to supplement her income, and when the family she worked for decided to move to L.A., she elected to move with them.
Eurydice
was her first L.A. audition, and she got it through Back Stage.
The competition was fierce; hundreds tried out for the role, and Percia went through three rounds of auditions before she was chosen. She "never felt so good" while auditioning, she says. "Usually I'm a nervous wreck and all over the place, but when I walked into the room, it felt very natural to me."
Director Trevor Biship gives her professionalism high marks. "She walked in and delivered two exceedingly polished and appropriate monologues that really stunned me," he says. He continued to be impressed throughout callbacks: "She was always prepared, she made choices that were exciting, and she really captured the multiple factors that we were looking for in our Eurydice."
A modern retelling of the Greek myth of Orpheus and Eurydice, the play focuses on the latter -- a woman who dies young -- and her experiences in the afterlife. The role requires "an actor with comedic skills but with a deep emotional center," says Biship, adding that Percia embodies those characteristics perfectly.
A few weeks into rehearsals, the two are pleased with the work they've accomplished. "Dina's really been delightful," Biship says, "and we've made a lot of wonderful discoveries in a short amount of time." Percia has nothing but praise for her director and fellow actors: "Everyone in the cast is great. We all have a really good rapport with each other and with Trevor. We all seem to come at the play and the character with the same vision and intention."
As for her future, Percia has high hopes. Her recent move has created new opportunities for her to break into film and television, but she'll always hold a special place in her heart for theatre. "Theatre is where I started and it's what I love," she says, "and I will always want to do it."
Eurydice
runs April 10–May 16 at the Hayworth Theatre, 2509 Wilshire Blvd., Los Angeles. For more info, go to
Plays 411
.
Has Back Stage helped you get cast in the past year? We'd love to tell your story. Be in the weekly column by emailing casting@backstage.com for New York or bswcasting@backstage.com for Los Angeles with "I Got the Part" in the subject line