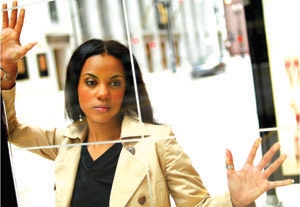 Actors have to decide for themselves how far they are willing to go for a part. When Dyonna Harrison heard that her audition for "Happy Fliers School of Aeronautical Knowledge" was the day after Thanksgiving at Whiteman Airport in L.A., she knew she was going to have to go far. "I had spent Thanksgiving in Las Vegas," she says. "But I figured it was an audition, I wasn't going to blow it off, so I took that drive—the six-hour drive back from Vegas—straight to Whiteman Airport."
Harrison first saw the notice for the short in the Nov. 11 issue of Back Stage, but she didn't realize until after she had submitted and been asked to audition that it was a spoof of "Top Gun." "I hadn't seen 'Top Gun,' which is weird," she admits. "Everybody in the world has seen 'Top Gun,' but I hadn't seen it, so I watched it four or five times, on that Wednesday, and then Thursday I had Thanksgiving, and then Friday I came back, fully knowledgeable, singing 'Bring back that lovin' feeling.' " All that preparation, and driving, paid off: She was cast in the role of Maverick and started shooting immediately after the audition.
"When I saw [Harrison]," says the film's director, Larry Costales, "what struck me was the eagerness, the willingness to learn and take direction." But for the role of Maverick, a student at the flight school who becomes the instructor's right hand, he needed something special. "I wanted somebody who had a strong command presence," he says. "That's what we call it in the Marine Corps—somebody able to take charge. She had the command presence, but then she wasn't hard to work with. You know, sometimes that attitude comes across as being very stoic and very hard-edged, and she could turn that on and off. It was just a pleasure working with her."
Harrison moved to L.A. less than a year ago but has already landed several gigs and is working toward her SAG membership. Perhaps most important, she has found just the right acting coach. "Gregory Berger of Berg Studios is probably the best acting coach in L.A.," she says. "There are so many of them. He really pulls the emotion out of you. Acting isn't acting with him. By the time you take him your script or your monologue, you will walk out of his studio being that character. You become that person. He gives such a new and fresh perspective on how you would even approach acting. I have learned so much under Gregory, and I am really blessed to have him. He's been such a catalyst for my growth as an actress, and I owe him. I owe him tremendously."
Harrison has no regrets about the hours she spent—driving and movie watching—to land her part. "It was, overall, a fantastic experience, and I would work with them any day of the week," she says. And she will: Costales and the producer-writer of "Happy Fliers," Mike Chinea, are already planning on working with her again, in a comedy they have in the works. "We're actually going to be writing a specific character for her," Costales says.

Has Back Stage helped you get cast in the past year? We'd love to tell your story. Be in the weekly column by emailing casting@backstage.com for New York or bswcasting@backstage.com for Los Angeles with "I Got the Part" in the subject line.