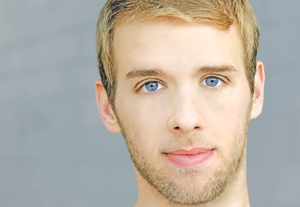 After Ed Stelz graduated last year from the Atlantic Theater Company's conservatory program, he found himself in the difficult role of what he calls "a nobody seeking auditions." Yet fast-forward 12 months and the now in-demand commercial actor has booked gigs for the likes of Apple, Miller Lite, and Wendy's.
When asked what precipitated his success, Stelz answers simply: "The FlatRate Moving commercial was the thing that catapulted my whole commercial career. It's the only reason I was able to get so much stuff afterwards. Not only did it give me experience and confidence in the auditions to do well; it showed people I was marketable."
Stelz spotted the FlatRate notice in the Commercials & Industrials section of Back Stage's casting pages. It stated that 24DP was casting the role of Coffee Guy for a comedic nonunion TV spot. Though Stelz landed a manager and an agent right out of the conservatory, "they didn't send me out on anything," he says. "Like one thing in seven months. They didn't have a lot of faith in me." Fortunately, Stelz reads "every page" of Back Stage, he says, and takes a proactive approach to casting.
The sides he received involved a man seated in a coffee shop, making oddly cryptic hand gestures. The comedic reveal was that the character is in the process of moving, and his dainty hand gestures mimic the heavy lifting visible through the window.
Brian Cristiano, CEO of 24DP, a full-service ad agency in Manhattan, recalls the audition: "When Ed came in, we spelled out the scenario and said, 'React to this.' And you could instantly see that he got it. Whereas in that same casting session we had other people who came from a theater background as well and they were very over-the-top, Ed got hired because he did a couple of facial movements and some really subtle things that made us crack up."
A former premed student, Stelz retains his flair for scientific analysis as he explains the nuances of commercial acting: "With commercials, it needs to be somewhat technical. The specificity that you do with your lips or eyebrows—especially when you're in close-up—is what creates a great character that someone will either like or not like."
After the FlatRate spot aired nationally, Stelz's agent and manager began regularly sending the SAG-eligible actor out on SAG, AFTRA, and Equity auditions. But he continues to be proactive. In addition to taking audition-technique classes with Marci Phillips and attending networking events at One on One and Actors Connection, Stelz has partnered with Arjun Gupta, who has a recurring role on "Nurse Jackie." The two are currently writing a TV pilot.
Stelz is represented by Jamie Baker of Baker Talent Management and Susan Wright of Ann Wright Representatives. His website is at
www.edstelz.com
.
Has Back Stage helped you get cast in the past year? We'd love to tell your story. Be in the weekly column by emailing casting@backstage.com for New York or bswcasting@backstage.com  for Los Angeles with "I Got the Part" in the subject line.