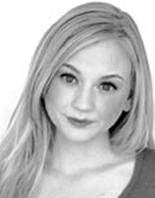 Emily Kinney is a happy actor. Forget what you've heard about backstabbing and ruthless competition; in this business, Kinney says, the most important thing is the belief that you are unique.
"You have to be okay with yourself," she says brightly. "You can't be shy about it. This is New York, but we're all people. You have to believe that you have something different. Maybe it's not that you're better, but there's something unique about you. It's that thing that drives you. It's 'Why not me?'"
That positive attitude has taken the Nebraska native pretty far up to now, with a semester of training at NYU and a résumé of stage, singing, and musical theatre work. And when she moved permanently to the Big Apple, she quickly took her first major foray into film when she landed the lead role in Aunt Tigress — a nonunion horror short ultimately selected for screening at the Cannes Film Festival — after spotting the audition in Back Stage East last November.
Kinney takes lessons away from all her acting experiences, even the small ones, even the ones long ago when she was 7 and entered herself in talent contests, singing Mariah Carey songs at local fairs. What she took away from her first big screen role was, "Push yourself; don't hesitate."
Explaining how she learned to approach a challenging part or scene, she says, "One of the biggest things that I've been taught is that you're always fighting for something. You're not just sad; you're fighting not to be sad. We're always trying to want something, and that doesn't mean it's over the top. Just in small ways, you're always trying to fight for something."
In addition to her optimism and her will, there's also the element of old-fashioned curiosity that keeps her dedicated to a constant schedule of auditioning, practicing, and honing her skills in anticipation of the next project. What character will she become next? And where will that lead her in this business?
"I believe everybody has this huge broad spectrum of people within them," she says. "One reason you become an actor is because you want to experience every little thing." And the same passionate inquisitiveness that makes her believe she can become a character also makes her believe she can succeed as a professional actor.
"I believe I might get this role that'll be a tiny chance," Kinney says. "You have something to show people; you have something to offer. You might be the best at it someday — if you really work."
Have you scored an interesting role recently thanks to a casting in Back Stage? If so, email your story and your headshot to casting@backstage.com with the subject line "I Got Cast!"