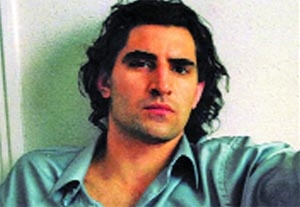 When the notice for the film
Dialogues
appeared in Back Stage, Eric Kochmer was immediately interested.
Dialogues
is experimental film director Owen Land's narrative feature about his own experiences from the late 1960s to the early '80s, in which different sides of himself are played by two actors.
"It sounded really appealing. I did a lot of experimental theater in New York, and this sounded kind of neat," Kochmer remembers. "It kind of sounded Samuel Beckett-y, kind of absurdist. Once I met the director, at the initial audition, we ended up talking about Samuel Beckett the entire time. I mean, I read some sides and auditioned too, but then we started talking."
Stephanie Sanditz, a co-producer of the film who was closely involved with casting, says Kochmer's experience in experimental theater made him the favorite for the part. "We wanted an actor who was smart and was open to an experimental type of film, but also someone who seemed to be really respectful of the craft," she explains. "Eric completely stood out from the regular people who came in because he had an extensive experimental New York background. He seemed open to a really intellectual artistic process, and he had a training that made him seem really available to do a wide variety of work. As soon as Owen met Eric, he wanted to cast him right away."
They quickly realized that they had chosen well. "He has a very manly physical presence, but he's totally open and really sweet, and without any self-restraint or inhibitions," Sanditz says of Kochmer.
"Dialogues
is such a weird movie and kind of off the path, but he gives kind of a playfulness to the character. Some of the movie is so heavy-handed, it kind of gave it a sweet element, which was nice."
In the years since first shooting the film, Kochmer has become involved with the production in ways he had not expected. "Lands was funding the project mostly with grants from Europe and some museums, and the production crew he had with him wasn't really managing his funds super well, so it kind of fell apart, and then when he started getting more grants again, I asked him if he'd rather me just take over and hire people that I knew," Kochmer recalls. "I've been living in L.A. for two years now, so by that time I'd made a good amount of industry connections, so I was able to get some good friends of mine who'd worked on different crews interested in the project and interested in his style. So we were able to finish it, and then we got it to post, and I'm actually in New York right now, at a festival for it, at the Migrating Forms Film Festival in the Anthology Film Archives."
Has Back Stage helped you get cast in the past year? We'd love to tell your story. Be in the weekly column by emailing casting@backstage.com for New York or bswcasting@backstage.com for Los Angeles with "I Got the Part" in the subject line.