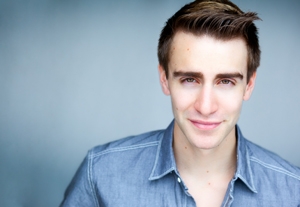 Landing the role of Sacho in
The Secret Theatre's
Children's Repertory Series production of "The Mermaids' Tale" can be considered Eric Pagán's first successful audition in NYC. Though he's performed in a number of student productions while enrolled at the
American Musical and Dramatic Academy
on Manhattan's Upper West Side, the nonunion actor found that landing a paying role in NYC involves its own skill set.
Initially Pagán came across the auditions for this original musical, based on the 1911 children's story "The Sea Fairies" by author L. Frank Baum (the "Wonderful Wizard of Oz" series), in Back Stage. However, due to a scheduling conflict, he was not able to attend, despite having a keen interest in children's shows. He had done a year-long stint at Disneyland as a performer immediately after high school. "Then at the beginning of April," he says, "there was another 'Mermaids' Tale' audition, and I felt like it was destiny. It was so different from the other shows I was auditioning for at the time that I had to go."
The nonunion production was conceived by director Jack Dyville, who wrote the book and lyrics to have a strong appeal for kids. The role of Sacho is a flamboyant prince who is turned into a slave by an evil emperor and becomes a comic-relief character. To modernize the story, Dyville cites the TV show "Glee," and particularly the character of Kurt, as a direct influence on the character of Sacho. So in addition to a "nice voice," the casting personnel were mainly looking for "a strong personality that was just a bit over the top."
Despite having a second chance at landing a role in "Mermaids' Tale," Pagán showed up frazzled. He had encountered transportation difficulties and reports, "I messed up the first song I sang and forgot the words to the second." Worst of all, he was asked to demonstrate his range by singing a number for an "evil character." He decided, before the audition panel, to sing the first song that came to mind -- a colorful ditty about his penis.
"Not quite children's theater material," Pagán admits. "But by some miracle they asked me to read sides. I did the best I could and left. I felt like it was quite possibly the worst audition I had ever given. Then the next day, I got the part."
Dyville went with Pagán, feeling he had a natural sense of cooperation from the actor, who brought an enthusiasm to the audition when asked to try something really "out there." Pagán credits AMDA's training, offering, "I felt so prepared for auditioning after graduating." He further explains, "When I forgot the words, or messed up, I just kept going and didn't make it a big deal. I just 'canceled and continued.' "
Eric Pagán is currently taking voice lessons with Jason Robinson and seeking representation. "The Mermaids' Tale" runs April 28–June 9 at the Secret Theatre in Long Island City, N.Y., with a possible open-ended run in the summer.
Has Back Stage helped you get cast in the past year? We'd love to tell your story. Be in the weekly column by emailing casting@backstage.com for New York or bswcasting@backstage.com for Los Angeles with "I Got the Part" in the subject line.