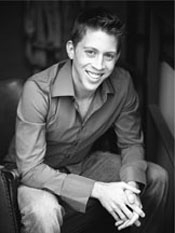 Role: Doody
Project: Grease at Westchester Broadway Theatre
It's a routine that's all too familiar: Wait hours to audition, give it your best shot, and then -- nothing. And no one knew it better than Geoffrey Goldberg.
After returning to New York from a production of Singin' in the Rain at Ohio's Carousel Dinner Theatre, Goldberg started auditioning again, unsuccessfully. When he saw an EPA notice in Back Stage East for Westchester Broadway Theatre's staging of Grease, he decided to go for it, albeit with misgivings. "I hadn't been too successful with them in the past," he says of EPAs.
Unfortunately, this trend continued. "It seemed like everybody and their mother was auditioning for Westchester Broadway. I was number four on the EMC [Equity membership candidate] list but still never got seen, and finally, at 4 o'clock, they told us all we could go home and they weren't going to see us at all."
Though the production was holding an open call the next day, Goldberg, discouraged, resolved not to attend. He slept an hour past the start of the call, then decided to leisurely visit some friends at the audition at 11 a.m. At their encouragement, he asked the monitor whether men were still being considered. Goldberg still remembers the startling response: "He said, 'Yeah, if you want to get seen, they can see you in the next 15 minutes.' And they did, because I started dancing around 11:15."
Goldberg danced, sang, and read sides for Doody, and the very next day director Richard Roland offered him the role. The experience was such a whirlwind that it seemed surreal, Goldberg remembers: "We did 'Greased Lightning,' and we were all in dress shoes and button-down shirts, because none of us knew that they wanted us to wear any dance clothes."
But Goldberg's dream seems to be turning into reality. Fresh off Grease, he is now touring Asia as an ensemble member and understudy to the actor playing Billy Lawlor in 42nd Street, directed by Mark Bramble, who co-wrote the book and directed the 2001 Broadway revival. "Going from 15-year-old quirky little pop tenor to understudying romantic leading man is a little switch for me," he says, "but I love that I'm getting the chance to do that."
Often the acting business seems all about just that: chance. As Goldberg attests, auditioning is "really the luck of the draw. I've gone to many, many EPAs where I didn't get seen and waited around for eight or nine hours. You never know when you're going to go and they're going to say, 'Oh yeah, we can see you right now.' "
Have you scored an interesting role recently thanks to a casting notice in Back Stage? If so, email your story and your headshot to bswcasting@backstage.com with the subject line "I Got the Part!"