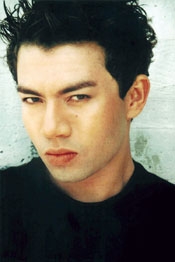 Role: Gio
Project: Solitude, a student film
Gio Banuelos is proof that the right actor is more important than the right role. When he saw the notice for the student film Solitude in Back Stage West, Banuelos knew right away that it was a project he wanted to be involved in, so he submitted, even though he didn't fit any of the character descriptions in the breakdown. "I'm not the kind of guy that holds back; I just go for it," Banuelos explains. "So I sent my picture, and for some reason they called me in. After the audition, I tried to put it out of my mind, but I really wanted this one. I could tell that it was a great movie. Finally, a week later, I got an email that said, 'Unfortunately, all the roles are booked, but since we loved your performance, we wrote you in.' I was just speechless."
It wasn't a hard decision, according to Chris O'Keefe, Solitude's director: "As soon as [the producers] saw his headshot, we liked it straight off, so we had him try out for the roles that were in the script, but in the end we ended up creating a role for him and kind of around him. We were just really inspired by the look and the way he fit into the mise en scène. We had other people in mind for the other parts, but I just knew that we had to have him in addition to that. So I talked to the writer, who was doing the writing at the time, and the producers, and we just created a new spot for him. It was really easy, and it turned out great." They even named the character after him.
Shooting the film was a wonderful experience, says Banuelos, who describes it as one of the most creative and professional environments he has worked in: "Everyone was so focused and so eager to do the film. I felt like we really bonded and helped one another." That feeling was mutual. "Gio was a pleasure, an absolute pleasure, to work with," O'Keefe says. "He listened so attentively to everything I had to say and was very responsive. Everybody in the cast and crew liked Gio a lot."
Banuelos, who works as a belly dancer when he's not acting, has booked several more gigs through Back Stage since wrapping Solitude, including the short films The Hawaiian Trip and I'm in the Band and a music video for the Balcony Fool.
Have you scored an interesting role recently thanks to a casting notice in Back Stage? If so, email your story and your headshot to bswcasting@backstage.com with the subject line "I Got the Part!"