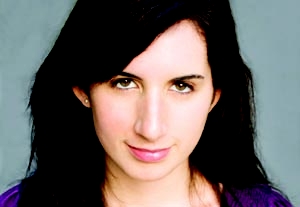 Giselle Vazquez
studied drama as an undergraduate at Syracuse University before deciding to get a master's degree in marketing at NYU. Ironically, it was while working on her postgraduate thesis that her passion for acting was rekindled. The thesis involved taking the marketing techniques traditionally used in product branding and applying them to actors.
"Needless to say, by the second week of working on my thesis, I knew I wanted to seriously pursue acting," Vazquez says. "I graduated from NYU, and a month later I enrolled in Lee Strasberg."
When a casting alert from Back Stage informed her that "
Something Outrageous
," an evening of sketch comedy based on material originated at Second City in the 1960s, would be produced by the Michael Chekhov Theatre Company in May at New York's Producers Club, she responded immediately, despite not having a background in comedy.
"It was such a valuable experience to get out of my comfort zone and explore comedy," Vazquez says of the show, in which the actors take on multiple roles in partially improvised sketches. "I had been doing musicals and short films, and I was attracted to 'Something Outrageous' because it was different from anything I had done in the last few months."
The production's casting director, Daniel Mian, was looking for "people who seemed like they would have fun," he says. He tends to focus less on résumés and looks instead for a "positive attitude and actors giving a fun reading, who bring a fun energy." Vazquez, who is nonunion, stood out and received word shortly after the audition that she'd gotten the role.
But that quick casting was partly the result of her marketing. Vazquez sent friends a short description of the role and a selection of her various headshots, and they responded by choosing the most appropriate one. Her impromptu market research gave her confidence in selecting the right submission materials. "Half of this business, aside from the actual acting work, is marketing yourself," she says. "You have to build a brand and make it easy for casting directors to know who you are."
In addition to studying acting with
Mauricio Bustamante
at the Lee Strasberg Theatre & Film Institute and investigating her aptitude for comedy, Vazquez is taking singing lessons with
Laura Rey
. Though she would most like to pursue television, the young actor's strategy is to gain maximum exposure in as many fields as possible—an approach akin to advertising a product. It's an apt coincidence that she'll be performing in "Something Outrageous" just down the street from Broadway's "How to Succeed in Business Without Really Trying."
Vazquez is currently seeking representation.
Has Back Stage helped you get cast in the past year? We'd love to tell your story. Be in the weekly column by emailing casting@backstage.com for New York or bswcasting@backstage.com for Los Angeles with "I Got the Part" in the subject line.