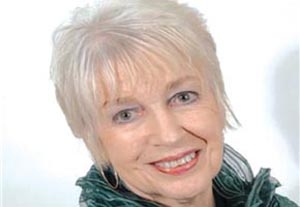 According to director Ryan Barger, "a degree of naturalism" and an ability to "give extremely simple dialogue an emotional subtext" made Grace Gawthrop the best candidate for the role of Eleanor in his film
Anniversary
, a horror drama about an elderly couple torn apart when the dead begin to rise. "Grace was very open from the beginning," he says, "and I knew we would have a good working relationship." Gawthrop spotted the role in a Back Stage casting notice last September, and she says the production was a good experience from the outset: "I was made to feel very comfortable. There was a good rapport, and I felt good chemistry between us." Her past experience in the horror genre may have been a factor in her getting cast. "I think the fact that I was in
Flesh Eating Mothers
helped seal the deal," she says.

Originally from North Carolina, Gawthrop moved to New York to study acting at the American Academy of Dramatic Arts and HB Studio. But after finishing school, she grew unhappy with the life of a New York City actor. "I became rather disillusioned as a youth, after graduation and making rounds and doing summer stock and all that," she says, "and I moved back to North Carolina and married my childhood sweetheart." Gawthrop took a break from acting to raise her child but returned to the craft after moving to the Hamptons, a community on New York's Long Island, where she performed in such plays as Barefoot in the Park and Steel Magnolias. "I became very enamored of the Hamptons," she says. "I did some theatre out there, but I wasn't auditioning in town at all." Ultimately she was inspired to go back to pursuing work on a more regular basis: "I'm a woman of a certain age…and I see all these commercials of my type, and I'm still photogenic, and I kept thinking, You know, I could be doing that."

One advantage of her life experience is that it makes it easier to audition. "At my age now, I feel more confident," Gawthrop says. "And I wish I knew then what I know now, because I used to get physically sick before I auditioned." She elaborates: "I think the reason I feel free now…is I'm not trying to be anything but who I am, because I know that this is a marketable time in my life because there are so many products out there for people like me." She's focused on getting more work in film and commercials and finding an agent. "The Dove commercials are one of the ones I think are wonderful," she says. "Because they show women with gray hair and, you know, real women."

Has Back Stage helped you get cast in the past year? We'd love to tell your story. Be in the weekly column by emailing casting@backstage.com for New York or bswcasting@backstage.com for Los Angeles with "I Got the Part" in the subject line.