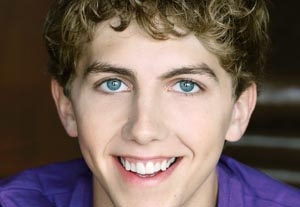 The actor's traditional good-luck phrase, "Break a leg," might have been taken too literally by 23-year-old dancer Graham Keen back in March. He was auditioning to be part of the dance ensemble for NETworks' national touring production of "Young Frankenstein" after seeing the casting notice on BackStage.com.
"They were looking for tall dancers, and I'm 6-foot-2," he says, "so it was a good match for me." Keen, an Actors' Equity membership candidate who has been dancing since age 7 and began his professional career in college, admits that this particular audition "was an uphill battle all the way." During the first tap combination, his shoe started to fall apart. Once that problem was solved, an even bigger one presented itself: At the end of a ballet combination, Keen landed the wrong way, fracturing the fifth metatarsal in his left foot.
"I don't know exactly how it happened," he says, "but I have a history of falling at really inopportune moments. My initial response was to get up and do it again. I just felt like this is a show and a job that I knew I could get, and I didn't want anything to get in my way."
Keen didn't know the severity of his injury at the time and proceeded with the vocal portion of the audition, assuring everyone that he was fine. "They asked me if I was okay and then told me to come back on Thursday with my tap shoes," he says. "And I thought to myself, 'Oh, my God,' because I could barely walk on my foot. Everyone was going to remember me as the kid that fell the first day."
However, casting director Bob Cline had a different impression after Keen's audition. "I don't even remember that, to be honest," Cline says. "I think he was doing a great job regardless of that, and such a good job that you notice right away in the room. When you're watching 300 people a day, you don't always remember that one person. But I do remember Graham, and he did great." Out of about 450 dancers who auditioned, Keen landed a spot in the 12-person ensemble. Rehearsals for the tour begin in September.
Keen had decided to audition for "Young Frankenstein" while on hiatus from NETworks' national tour of "The Music Man," in which he was an ensemble dancer and an understudy for the barbershop quartet. He had only a weeklong break from that show, which toured the country from January to May.
"It was my only chance to really audition for anything," Keen says. Fortunately for him, he chose to audition for a touring musical that was produced and cast by the same personnel who had hired him for "The Music Man." Cline had seen Keen in the audition room before and had faith that he would do well on tour again.
"I cast him for 'The Music Man,' and I know the company that did that sure loved him," the casting director says. "I can always be in his corner and speak highly of him, which is great in this business."

Has Back Stage helped you get cast in the past year? We'd love to tell your story. Be in the weekly column by emailing casting@backstage.com for New York or bswcasting@backstage.com for Los Angeles with "I Got the Part" in the subject line.