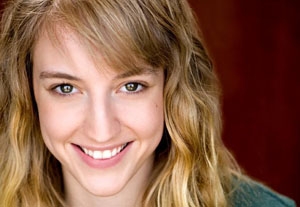 After attending Texas State University for a year, where she studied theater and played a couple of lead roles, Hope Jaymes embarked upon the brave journey to Los Angeles, leaving her theatrical roots for a career in film. Jaymes recalls, "I was completely new to L.A. I really had no idea what I was doing, but all I knew was there was an audition for a girl named Sommer." She had seen the breakdown on BackStage.com and was off and running. Though the fear of not knowing what to do or where to start in a new town may have overwhelmed Jaymes, the thrill of booking a job quelled her fright rather quickly. Jaymes' first "real" audition landed her a supporting role in the independent horror feature "Jack the Reaper" within two months of arriving in L.A.
The film's executive producer–director-writer, Kimberly Seilhamer, notes that Jaymes was "fabulous" on set and that she "was very intuitive as to what was needed in the scene." Seilhamer, who also served as casting director, recalled an "excess of 300" responses for the role of Sommer, a 17-year-old blonde who wants only to be loved. "It was highly competitive," Seilhamer says. "There are a lot of blondes in Hollywood. Hope was just there to shine, and that she did. I just loved the way she was able to follow direction and the way she could bring the subtle impact into the role."
Subtlety in the character aside, there were outright terrifying moments during filming. In discussing her experience with horror movies, Jaymes says, "I'm so scared to watch them, but I've always wanted to be in one. I wasn't expecting to be scared on set. There were some moments where I thought, 'I might be killed right now,' and you have to remind yourself that it's just a movie."
With a reaper giving chase and terrorized screaming resounding for days on end, the actors might consider a little downtime from fellow fearsome castmates; however, Jaymes points out that some of the best things she has gained from her first feature film experience are the relationships with the cast and crew. She says, "We really got along well and are all friends today. Plus, they all helped me learn how to get an agent; they all kick-started everything that I'm doing here now."
As for what lies ahead for Jaymes, Seilhamer says, "She's got a really bright future in acting." After living in L.A. for a year and a half, Jaymes does not take for granted that that first audition not only gave her the experience of her first role in a feature film, but also prepared her for future auditions. When asked if the chapter is closed for her on the horror genre, she assures, "Oh no! I would love to do more horror films. I think I have an awesome scream."
Currently, she is working on sides and submitting a video for an upcoming MGM remake of the 1976 horror classic "Carrie." Jaymes confidently says, "They haven't asked me [for a video], but I'll give it to them." Jaymes is motivated to move on to other film projects—perhaps leaving theater behind for a while but not forgetting her invaluable training that got her to where she is today.
"Jack the Reaper" recently won best horror/sci-fi film at the Cannes Independent Film Festival and premiered in the Film Market at the Cannes International Film Festival.
For more information, visit
www.hopejaymes.com
.
Has Back Stage helped you get cast in the past year? We'd love to tell your story. Be in the weekly column by emailing casting@backstage.com for New York or bswcasting@backstage.com for Los Angeles with "I Got the Part" in the subject line.