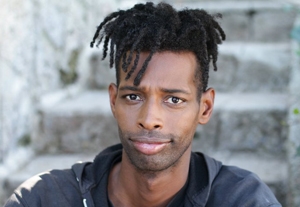 By the time Ian Loren saw the casting notice in Back Stage for the web series "Six Roots," the audition had already taken place. He responded to the notice nevertheless, hoping he would get a chance to be seen. The role of the gay son of a single mother in a family of six, along with the concept of the web series, appealed to him. "It was a different take on the whole urban/black family drama," Loren says. "When I read the character Gerard, I knew that people would like him. I knew this guy."
Stephanie Wynne, writer-producer-director of "Six Roots," was taken with the email from her prospective Gerard, noting that Loren's words conveyed energy, attitude, and willingness. But Wynne was not completely sold on Loren for the role. "When I first met with Stephanie, she said to me, 'You are not what I envisioned for Gerard,' " Loren says.
As much as the director had a solid idea of the character, so did the actor. Loren had decided on a look, walk, and type of speech for the character before showing up. Inspired by an episode of "
Will & Grace
" in which Debra Messing dons
Audrey Hepburn
-type sunglasses and a red scarf, Loren solidified his approach. "She [Messing as Grace] flew the scarf over her right shoulder and dashed out of the room as if she was in some 1920s film. I decided that Gerard would flip [the scarf] and always make an exit ... and an entrance," Loren says.
Before meeting the actor, Wynne recalls, "When I first looked at Ian's picture, I thought he was shorter; I didn't even look at his height." The actor stands at 6 feet 7. Wynne knew exactly what Gerard should look like, as the character is based on a deceased family member but didn't imagine him being as tall as Loren. "I'm glad I didn't pay attention to the height, because I would have really missed out on a great opportunity," Wynne says. "Ian 100-percent fits [Gerard]. They don't really look alike, but they have the same great attitude." Says Loren, "By the end of the process, Stephanie said, 'Ian, the role is yours if you want it.' "
On set, the experience yielded mutual admiration. Says Loren, "It was so fun -- very bare-bones, very guerrilla, Roger Corman style." Without much of a rehearsal process, Loren received guidance from Wynne along the way, tweaking and adding nuances wherever appropriate. "One thing I love about Stephanie is that she let me go off a bit and be more creative with the dialogue and improv," he adds. Wynne is grateful to be able to do what she loves to do. "My success isn't dependent upon a Hollywood check," she says. "The reason I write 'Six Roots' is for the actor. I appreciate being creative enough to have it come from my head, to go to my hands, to type it in the computer, to give it to the actor. That's how I see everything that I do."
After "Six Roots," Loren intends to return to film. Just back from an extended layoff from "the business," Loren has no plans to leave Los Angeles, though he describes his career there as "an up-and-down thing."
"I'm a character guy, so I don't have that career of Shemar Moore because I'm not what you call mainstream," he says. But being an outsider type has served Loren well; he's been cast in several films and theatrical projects during his L.A. tenure.
Ian Loren is represented by Crown North Talent Management. For more information about "Six Roots," visit
www.blacksavagefilms.com
.
Has Back Stage helped you get cast in the past year? We'd love to tell your story. Be in the weekly column by emailing casting@backstage.com for New York or bswcasting@backstage.com for Los Angeles with "I Got the Part" in the subject line.