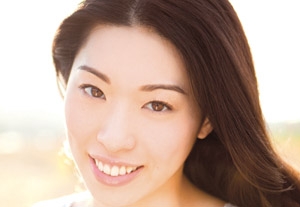 After working for four years in New York for "corporate America," Irene Park decided to return to Los Angeles and pursue her true love. Thanks to a casting notice in Back Stage, she recently booked the role of Brittany in the short film "Without Sanctuary." Written, directed, and shot by Robert Terry II, the film deals with racism in an alternate United States where tensions haven't decreased over the years but have escalated.
Park was a little concerned about her audition when the camera they were using to record the session wouldn't work. "I was like, 'Oh, great, they won't be able to go back and pinpoint if I'm good for the role or not,' " she recalls. "Some casting directors base their decisions on how you come across onscreen versus your actual presence in the audition room," she says. But that was not the case with her audition.
"I knew she was the one," says Terry. "As soon as she walked in the room, I knew it. We didn't need the tape for her. As soon as she started to read the part, it was like, 'Cool, she gets it.' " He appreciated the preparation and effort Park put into her audition. "She was very responsive to my direction and seemed really natural," he says. "I'm in editing and realizing what a good job she did. She understood what the entire piece was about, the mood. She really added a lot to my movie."
For her part, Park says her director was very organic, very patient, and relaxed on the set: "He gave the actors opportunity to rehearse and block before shooting and didn't really mess with all the different actors' processes. He was really respectful." She adds, "It was a very inviting environment."
Park was bitten by the acting bug in high school, at the Westridge School for Girls in Pasadena, Calif., and cites her drama teacher Tim Wright as one of her influences. She describes Wright's philosophy as "Just go out and act; learn through experience." He encouraged her to fully explore the craft. Park has also studied with Robert Verlaque at T. Schreiber Studio in New York—which she feels gave her a strong foundation in technique and the basics of acting—and most recently with Tim Phillips in Los Angeles. "Tim is just great," she says. "He's very practical, down-to-earth, and he really helps you get results."
Park credits the recession with helping her re-evaluate her career: "Everyone had to sort of buckle down, work more for less. I was really unhappy because I wasn't doing what I wanted to do." Originally from East L.A., Park attended college in Philadelphia and moved to New York after graduation. "I was a philanthropic consultant," she says. "I helped for-profit companies with their community involvement—how they can give away their money to charity, basically."
Coming from what she describes as a traditional Korean-American family, Park never considered pursuing acting as a career. "It was always my passion and something I loved to do," she says, "but I was like, no, I can't do it because of money or because of X, Y, and Z. It was probably a lot of self-doubt." But her mother helped her make the decision. "She actually surprised me," Park says. Her mother, "who is very practical, said, 'Maybe you should really do what you want to do, and you've always been in theater; you've always loved acting.' So she opened her home to me, and it's been great."
Park is currently working on two student films and seeking representation. She also has her sights set on getting union status. You can view her profile at BackStage.com or email her at irene.sj.park@gmail.com.


Has Back Stage helped you get cast in the past year? We'd love to tell your story. Be in the weekly column by emailing casting@backstage.com for New York or bswcasting@backstage.com for Los Angeles with "I Got the Part" in the subject line.