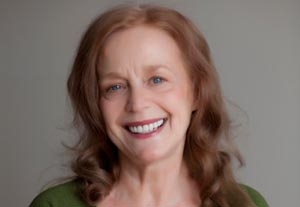 A notice for a project described as "a feast for the senses from the 19th century in a 20-minute film about the pros of cooking with cannabis" caught Iris Karina's eye online. Cannabis, though, was not the keyword that reeled in this painter–actor–singer–fashion designer born in Vienna. She recalls, "It was shooting in the style of Stanley Kubrick and Tim Burton, and masks to be worn in the style of Cirque du Soleil; it sounded really interesting."
The audition took place in a nicely furnished, cozy studio in the Brentwood section of Los Angeles. All the actors were called in to read together, and the environment gave the impression that they were seated around a fireplace. Executive producer–director Serge Rivest noticed in Karina "a woman with a lot of kindness." He adds, "Some actors come in with a big ego. You know? She left that at home." In seeking an older female for the role of Empress Kinky, Rivest noted that Karina was the one who had "the look" over the 10 to 15 actors who auditioned before she did. Given the guideline of actor Romy Schneider, he saw instantly that she fit the role.
Karina felt right at home working with Rivest, a French-Canadian. "He is very French, so in a way very European, and it made it very easy for me," she says. "He is a very artistic person, and I liked his style." Scenes were shot during the night in Desert Hot Springs, the actors in lavish clothing and white pancake makeup under masks. Rivest remembers, "We would shoot until 3 or 4 in the morning, and Iris would never complain. She was a trouper and was always well-prepared. She is not 20 years old, but she always wanted to take more shots and was really a plus in the cast."
While waiting to start a scene taking place in 1850 at a dinner table, Karina was enjoying the moment. She muses, "In the script, there is talk about opening up a restaurant in L.A., which is really funny because we are sitting somewhere in the 19th century! There is so much fantasy in [the film], which I really like, and of course the costumes. I always like costumes."
Regarding the cannabis, Rivest says his goal was to show that using cannabis in food is for healing, medicinal purposes but that no "ganja" was used on set; the actors would just have to do their job and pretend.
Karina moved to Los Angeles 12 years ago with the hope of working in film. She prefers features but loves shorts, and she avidly agrees to work on numerous projects, as proved by her wide-ranging résumé. "I decided to go over to the States to try my luck here, and actually it's working pretty well," she says.
But she probably will not be available for anything else at the moment, because she is traveling to Japan for a few weeks to sing with her band. In discussing her type, she cites the obvious choice of "grandmother," yet she has portrayed everything but. "There are so many possibilities out there," she says. For more information, visit www.irisartist.com.
Has Back Stage helped you get cast in the past year? We'd love to tell your story. Be in the weekly column by emailing
casting@backstage.com
for New York or
bswcasting@backstage.com
for Los Angeles with "I Got the Part" in the subject line.