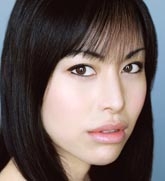 Role: Member of the Bats, the resident acting ensemble of New York City's Flea Theater
Project: An Off-Off-Broadway production of 'Offending the Audience'
Ivory Aquino was born in Manila in the Philippines, and when she was about 10 years old, Lea Salonga, the Filipino stage star and singer, was cast as Kim in Broadway's Miss Saigon. Salonga would go on to international acclaim and awards, including the Olivier and the Tony, and to star on Broadway again in shows such as Flower Drum Song and Les Misérables. Aquino would go on to Watertown, N.Y., for a high school exchange program, carrying her adoration of Salonga and dreams of being an actor with her.
Two years ago, after studying music at the Berklee College of Music in Boston, Aquino decided to move to New York City and seriously pursue her dream. She says she was naive, but she spotted Back Stage East on a newsstand and began regularly picking up a copy. She started going to five auditions a week and diligently seeking out agents and managers — at the expense of looking for a survival job. "Looking back, it was totally reckless of me," she says. "I wasn't working yet and was just building up the credit card debt. I was just so driven. I had these blinders on. I just kept auditioning."
In the first six months of 2008, Aquino, who is a member of the American Federation of Television and Radio Artists, booked five nonunion stage jobs she found in Back Stage. In January she auditioned for the Flea Theater's resident acting company, the Bats, and was cast in a revival of Peter Handke's Offending the Audience. In February she took a chance on an Equity open call and found work in the Ellis Island Living Theater's Taking a Chance on America: Bela Lugosi's Ellis Island Story. Then came Lysistrata with the Michael Chekhov Theatre Company and the musical comedy God Loves My People Best at the Sage Theater. Next up is the Drilling Company's production of Henry V, playing July 24-Aug. 10.
Jim Simpson, the artistic director of the Flea, watched Aquino audition with a Lady Macbeth monologue and was especially impressed with her fresh take on classical material. "If you can do a classical piece, I always say, 'Please do,' " Simpson says. "It really shows your abilities and limitations. She had no limitations. She was a powerhouse." Simpson was equally awed by her physical and vocal presence, no doubt honed by her extensive audition experience.
"I deal with disappointment by going to more auditions," Aquino says. "I focus on doing the work. If you look at the baby steps you've made, the progress you've made, it can be satisfying." The acting business "is so unpredictable," she adds. "The only way is to keep bettering myself."
Has Back Stage helped you get cast in the past year? We'd love to tell your story. Be in the weekly column by calling (323) 525-2358 or emailing bswcasting@backstage.com with "I Got the Part" in the subject line.