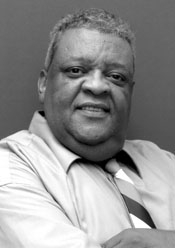 Role: Angry Pedestrian
Project: An American Airlines commercial
They say persistence is everything in this industry. But never underestimate the importance of self-confidence. When James Dickson auditioned for the film American Gangster, which stars Denzel Washington and hits theatres Nov. 2, he was sure he would get cast. He felt it from the moment he read the casting notice in Back Stage East. After all, they were looking for character types, which Dickson sees as his forte. "I knew I was going to get called. They definitely wanted different street types, and I can go all these different ways," says the actor, who has been a background performer on 30 Rock, The Sopranos, and Saturday Night Live.
Dickson did get a call, and on the day of the audition he felt "good vibes" coming from the producers and casting director. But when a few days passed with no word, he started to worry: "Different friends were telling me, 'Oh, I got called. I'm working a couple days,' and I said, 'What's going on?' " Dickson, who wasn't about to sit around and wait, contacted Billy Dowd Casting and learned to his disappointment that he hadn't been selected for any of the open roles.
Six months later, Dickson was going through an acting dry spell and starting to lose hope about his career, when a phone call came from Shaun Duffy, a casting director at Billy Dowd. Duffy had come across Dickson's résumé and thought he was perfect for an upcoming commercial. "Out of the blue I get this call from Shaun seeing if I was available," Dickson says. He would be an extra in a new American Airlines spot starring James Gandolfini.
Dickson's commitment to the part so impressed the commercial's director that he decided to give the actor a few lines. Suddenly Dickson had a new role: angry pedestrian. His passion for acting and his belief in himself had gotten him upgraded to principal, which restored his confidence and taught him a valuable lesson: Rejection today does not necessarily mean rejection tomorrow.
Have you scored an interesting role recently thanks to a casting notice in Back Stage? If so, email your story and your headshot to bswcasting@backstage.com with the subject line "I Got the Part!"