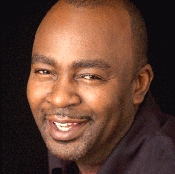 The nonunion feature film Blake's Divine Comedy tells the story of poet and artist William Blake, a self-doubting English teacher. During the three seasons of the school year — hell, purgatory, and paradise — he and his students journey through Dante's epic poem The Divine Comedy. When actor James Mcknight spotted the casting notice in Back Stage for the part of Hal Keeler — an emphatic, somewhat unhinged teacher and friend of Blake's — he knew his day job would come in handy in bringing the role to life. "When I read the character description, I got the sense that Hal was a bit psychotic," Mcknight says. "I was able to draw from my experience as a child-and-adolescent psychiatrist to develop this role."
For the audition, director Peter Kingsbury asked Mcknight to be prepared to read from the script and talk about why he wanted to be an actor. "The interview went well, but the audition was a little rocky," Mcknight says. Prior to the audition, the director had sent him the script, which Mcknight studied, "and I thought I was really prepared," he says. "However, when I got in there, I found that I was missing a page, so I started reading and then I jumped to the wrong page and was like 'Wow, I really messed up there.' " Leaving the audition, Mcknight wasn't confident about his chances: "I was hopeful, but because of my mishap I was not sure if I would get the role."
Fortunately for Mcknight, the director looked past the mistake and cast him. Kingsbury was looking for someone who could deliver the language with rhythm and theatrical presence, something he saw in Mcknight's audition. "He exactly met the requirements of the part," says Kingsbury. "He had developed a performance rooted in an understanding of the text. I knew he was right for the part."
Mcknight was recently featured in The Lucky Suit, winner of the Allstate Insurance Company's Beyond February "Be Reel" short-film contest, part of the American Black Film Festival, which was held in Los Angeles in August. For more information on Blake's Divine Comedy, visit web.mac.com/mamanascoweb/bdc/scenes.html.
Have you scored an interesting role recently thanks to a casting notice in Back Stage? If so, email your story and your headshot to casting@backstage.com with the subject line "I Got Cast!"