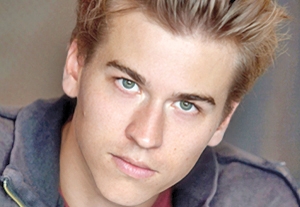 In his short film career, Jay Gillespie has already had the distinct privilege of working with two horror icons—Tony Todd ("Candyman") and Robert Englund ("Nightmare on Elm Street"). And it was through Back Stage that Gillespie booked the lead in "One by One: Death's Door" featuring Todd and Oscar nominee Sally Kirkland.
"We exchanged emails and everything like that. He's ginormous in real life," Gillespie says of Todd. "He has this very deep, throaty voice and he would say, 'Just keep doing it,' [of acting]. He wanted me to be in 'Hatchet 2.' He was like, 'You'd be perfect for it, buddy.' And I was like, 'I think it's cast already.' And he said, 'So what? Talk to your manager.'" In "One by One," Gillespie plays Shawn Hickey, a metal guitarist on a field trip gone horribly wrong when the bus crashes in the desert. It definitely helped that Gillespie himself is a professional guitar player whose band, Samvara, is currently mixing their forthcoming EP in Manhattan.
"The guitar they got was definitely the most metal guitar you could get. I'm more of a straight up rock guy," says Gillepsie. "I actually had to sit down with the composer and learn a part of the score so I could play it in a sequence where I play the composition and then it fades into the real composition in the movie, which was really cool."
"I interviewed a lot of Shawns, but [Gillespie] stood out," recalls writer-director Kimberly Seilhamer. "I loved his look and his quiet energy. He bears a resemblance to both Johnny Depp and Val Kilmer. He can project inside emotions to the outside emotion, which is needed in this film." Gillespie remembers having to perform action sequences in the audition room. "It was a lot of, 'Wait! Oh my god,' like a lot of hysteria going on in the room. It was fun."
Seilhamer says Gillespie did his own stunts on the movie, including a "gnarly scene" where the film's monster, known as the Reaper, drags him across the floor. Makeup artist Barney Burman, who just won the Oscar for "Star Trek," does the elaborate makeup on actor Douglas Tait, who plays the Reaper.
"This is the first in a big franchise. We were already featured in the Hollywood Reporter and we're just in editing now," says Seilhamer. "I think Jay has the potential to become an A-list actor. He takes direction very well. He has immense talent. I know I would cast him again in a heartbeat. In 20 years, he'll be a household name for sure."
So what was it like to work with Freddie Krueger himself in "2001 Maniacs"? "Robert was really zany. He tried to set me up with a meeting with his agent once. So I go into this office with Robert and he is literally pitching me to this bored agent. He's like, 'You see this guy? This guy's a star. You see him? Look at that!' I haven't seen him in a long time. I feel very lucky to have worked with both those guys." Gillespie says he would love to play a weird villain, like Todd and Englund have, someday. "Oh absolutely, are you kidding? It would be so much fun. I played Richard III at NYU. My favorite is Shakespeare. That's what I got a lot of training in." Among the acting professors Gillespie credits as inspiration are Brent Lang of the College of Charleston, and NYU Tisch's Christine Farrell, Kevin Kulke, and Louis Sheeder. His agents are Milton Perea and Nicole Jolley of Amsel Eisenstadt & Frazier and his manager is Sean David Healy of Healy Artists.
For more on Gillespie, visit
www.imdb.com/name/nm1152653/
. For more on Gillespie's music, visit
www.myspace.com/samvaramusic
and
www.myspace.com/jaygillespiemusic
. For more on the film, visit
www.imdb.com/title/tt1552423/
.
Has Back Stage helped you get cast in the past year?  We'd love to tell your story. Be in the weekly column by emailing casting@backstage.com for New York or bswcasting@backstage.com for Los Angeles with "I Got the Part" in the subject line.