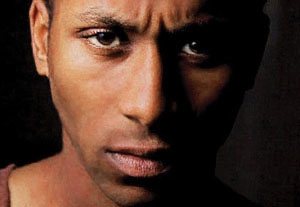 Los Angeles native Jemal Draco says he has always felt like an underdog. "I'm ethnic, I'm skinny, I'm short, and I'm very alternative-looking," he explains. That's why he was thrilled when writer/director Kimberly Seilhamer called him in to read for the part of Tyler in her feature-length horror film "One by One: Death's Door" after receiving his submission through BackStage.com.
"All horror films have the token jock that does what he wants to do and says stupid things, but Tyler is more complicated than that," Draco explains. "Kimberly wanted someone a little more alternative and different. I was just excited to have the chance to actually read for a part like this. I came in dressed in a studded vest, spiked my hair, had boots, ripped jeans, and put my hair in a Mohawk."
"We searched high and low for Tylers, let me tell you," says Seilhamer. "I interviewed probably 75 to 100 Tylers.What I needed was a very high-energy young man that could come in and really pull off being the rebel and still be likable.When Jemal came in and did his audition, which we filmed, he immediately had the part. I knew right then. I said, 'That is Tyler.'"
One challenge Draco had to deal with in his audition was pretending to climb on a Ferris wheel when it suddenly starts up on its own. Seilhamer was impressed with the way he handled the situation. "If you look at the video," she says of his taped audition, "you would think that he really was standing on something like a balance beam. He was so precise with his body, he just totally sold it."
Draco also ad-libbed a bit. "As a writer, I'm not a big fan of ad-libs," Seilhamer admits. "But I had directed him to have fun with the character and to feel free to embellish. Well, he came up with some fantastic ad-libs. In fact, some of the stuff was so great that I actually rewrote the script to incorporate the things I really liked that he brought to that performance." A couple of weeks later, Seilhamer called Draco to offer him the part.
Draco's upbeat personality during filming in the Mojave Desert caught the attention of the director. He was "a high-energy individual who was just such a pleasure to have on set," she says. "He was immensely professional and just amazing. I can't wait to work with him again."
Other cast members included horror legend Tony Todd ("Candyman"), Sally Kirkland, Chris Bruno, and Douglas Tait—all of whom Draco, who has been acting for only two and a half years, was honored to be working with. "Besides this feature, I've done one other feature and some webisodes," he says. "I completed the two-year program at the Joanne Baron/D.W. Brown Studio, and now I'm in SAG and AFTRA and really working hard. I'm so very thankful to Back Stage. I check it every day."
Draco hopes his unique look will continue to help him get cast in interesting roles."My goal is, before I die, I must work with Vincenzo Natali," he says. "He's the guy that did 'The Cube.' He recently did 'Splice,' and he does all these weird movies. I feel I'm destined to get these kinds of roles and play some kind of animalistic, futuristic entity here to save the planet or something. Either that or Mowgli from 'Jungle Book.'"
Draco is seeking representation and can be reached at jemaldraco@gmail.com.
Has Back Stage helped you get cast in the past year? We'd love to tell your story. Be in the weekly column by emailing casting@backstage.com for New York or bswcasting@backstage.com