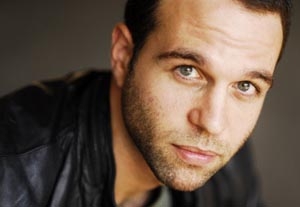 Originally a musical theater performer, Jesse Bernath successfully transitioned into plays when he auditioned for
Liars
after seeing a casting notice in Back Stage. Bernath credits some of the success of his audition to the atmosphere created by the director. "This was one of the most comfortable and welcoming audition environments I've come into," he says. "Everyone actually smiled and seemed genuinely happy I existed." But he still wasn't sure he had gotten the job. "I honestly left thinking I wasn't going to get cast. I thought they liked me—they were laughing in abundance—but I just had a feeling it wasn't enough."
Director Lindsey Moore, however, had no doubt she wanted Bernath to be part of the project. "When Jesse came in for his audition, he was relaxed and confident," she says. "It was his prepared, strong performance in the audition that really sealed the deal. He was very familiar with the material we'd sent, and he had made some big character choices."
Bernath, who came to New York from St. Louis, was initially unsure how his move into plays would go. "I've only done musical theater for the past 17 years of my life," he says. "My entire life, my voice has been what was complimented and praised. No one has ever approached me after a show and said anything about my ability to act." But wanting to do something different, he began searching Back Stage for nonmusical auditions, and now he feels confident about pursuing this kind of work. "I'm enjoying not having to worry about singing," he says. "It's a lot more liberating."
According to Moore, Bernath has successfully embraced the challenges of straight plays. "His performance was strong from the beginning, and one thing he's done really well at is separating all his characters from one another," she says. "He plays four different roles in the course of the show, and watching them each develop individually has been an exciting process."
Overall, Bernath has found the production an extremely positive experience. "Because the script is so funny and the actors bring so much to it, this experience has been a dream," he says. "This is a group formed from people that just want to do what they know is great theater. What is crucial is that you have people surrounding you who are talented, know what they're doing, and are fun, good people to work with."
Has Back Stage helped you get cast in the past year?
We'd love to tell your story. Be in the weekly column by emailing
Backstage for New York or Back Stage West for Los Angeles with "I Got the Part" in the subject line.