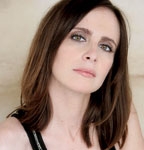 Role: Lenny
Project: 'Crimes of the Heart'
When Jessica Blair saw the casting notice in Back Stage for Crimes of the Heart at the Santa Monica Playhouse, she knew the role of Lenny should be hers. "It is challenging to find plays that center around the lives of women that are actually about women," she explains. "I have loved this play forever, and Lenny is such a complex and diverse character, which presented me with a real challenge in truly finding her in myself."
Certain the producers would agree she was perfect, Blair submitted by mail and email. "I kind of bombarded them until they called me for an audition," she says, laughing. "I went dressed as the character and was pretty determined: This is my part. Period!"
Though Blair didn't physically fit what they had in mind, those casting the role were quickly convinced. "Lenny is written as a round woman, while [Blair] is tiny, slim as can be," says producer Justin Lo. "But she captured the soul of Lenny in her reading. She auditioned in clothes the character would have worn, really transformed herself, and her talent was undeniable to everyone in the room. We knew after her first reading that she was the one."
Being in the play was as great an experience as Blair had hoped. "It was such a wonderful group of people, and it was at the Santa Monica Playhouse, which I've always thought was a beautiful space," she says.
Blair, who moved here seven years ago after getting a B.A. in theatre at Florida State University, says this was exactly the sort of role she hopes to land often. "Within weeks of closing the play I joined Equity, and while I am also a member of SAG and have a passion for all acting, I think because I grew up dancing ballet on the stage, that's where my heart is," Blair explains. "I would like to get to the point in my career where ultimately I can just do all the theatre I want to do."
She shouldn't have any trouble getting there, according to Lo. "[Blair] demands so much of herself," he says. "She was constantly trying new things, taking her role to different places emotionally, and always with great humility, openness, and passion for the craft. It was really exciting to watch her evolve over the course of the show."
Have you scored an interesting role recently thanks to a casting notice in Back Stage? If so, email your story and your headshot to bswcasting@backstage.com with the subject line "I Got the Part!"
Sarah McKinley Oakes can be reached at soakes (at) backstage.com.