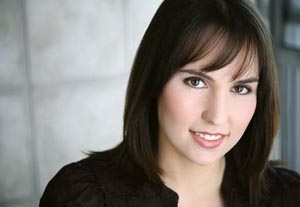 Jessica Goldstein's story will sound familiar to many actors. About six months ago, she auditioned for a role in the short film Blues for Life and thought she did well. But weeks wore on without a word. Obviously, she told herself, she didn't get the part. So she did what every actor must: She told herself to move on. Learn what you can from the experience and forget about it. Keep auditioning. Keep trying. Hone your craft. Persevere.

"All I try to do is a great audition and feel great about what I did," says Goldstein, a graduate of the University of Toronto and, last year, the American Academy of Dramatic Arts in New York. "Everything else in an audition is out of my control." Sometimes it's hard to stick to this way of thinking, hard not to question yourself and your talent when the calls aren't coming, but you must let go of rejection, she told herself. And then she got a call.

About four months had passed when the director rang her up and told her she was right for a small role. He had remembered her after all that time, though Goldstein could barely remember the project. Blues for Life was now a feature film and needed someone to play a young mother, and Goldstein happened to look like the girl cast as the daughter. And just like that, she had a job she'd almost forgotten she'd auditioned for. Shooting began the last week of April.

"This experience has taught me that you never know what's going to happen in this business," Goldstein says. She admits that being an actor living and working in New York isn't something incredibly special; she's just doing the "standard actor thing," she says, just staying committed to her passion and her craft. It's what she makes of it that makes it special.

Goldstein works two part-time jobs to pay the bills and auditions for everything she can find. "I am my own agent, publicist, and motivator," she says. "Back Stage is a huge part of my life. I spend hours at a time submitting myself for projects off the website, as well as toting my hard copy with me when I have a minute to read in the subway."

Has Back Stage helped you get cast in the past year?
We'd love to tell your story. Be in the weekly column by emailing
casting@backstage.com for New York or bswcasting@backstage.com
for Los Angeles with "I Got the Part" in the subject line.