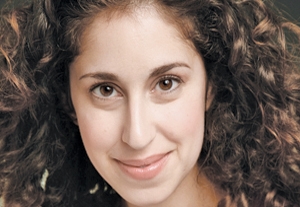 When Jessie Losch was in college, her father would buy Back Stage for her every week. She continued reading it after graduating, and two years ago the New Jersey native found a casting notice on BackStage.com for "Converse," a grant-funded educational film about domestic violence among Hasidic couples, and submitted herself for it. It was the first time she'd sent out her brand-new professional photos, and when she was called in about a week later, it was her first "real" audition in New York City for her first nonstudent film.
"It was surprising and then immediately terrifying," Losch recalls. The nonunion actor was prepared with a monologue but was instead asked to read sides on camera, first for the role of Suri, the younger sister, and then for Rachel, the elder sister. The whole audition took maybe four minutes.
"It was so exciting," Losch says. "It hit me that this is what I'm doing. I'm not in school. It's something I did on my own. It was the process more than the product. I forgot about the fact that it could lead to a part. It was important just to feel I'd gotten my toe in a little bit." Forgetting that it could lead to a part was a good thing, as Losch went back to her job as a preschool teacher and wasn't offered the role of Rachel until about a year later. In fact, when the director called to offer her the part, Losch didn't even remember auditioning for it.
Until Losch filmed "Converse"—a one-day shoot in Union City, N.J., last June, during which she stayed in character the whole time—her acting background was almost entirely in theater. She admits she can't sing, but undergraduate speech and voice classes helped her develop Rachel's thick Brooklyn accent. A graduate of New Jersey's Ramapo College, Losch spent last summer studying Shakespearean and classical acting in Oxford, England. She speaks fluent Spanish, has performed orations on the street corners of Manhattan's Washington Square Park, and carries around a notebook full of monologues she loves. Last month she auditioned for a local television pilot.
"I've been trying not to make long-term goals, because I worry they'll stop me from taking new opportunities," Losch says. "I'm so focused on chugging along and getting myself out there. I feel almost every day that I'm diving off some cliff." 
Has Back Stage helped you get cast in the past year?  We'd love to tell your story. Be in the weekly column by emailing casting@backstage.com for New York or bswcasting@backstage.com for Los Angeles with "I Got the Part" in the subject line.