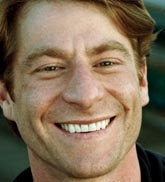 Role: Marcus
Project: 'Facing East' at the Stillspeaking Theatre
One expects to drive a lot in L.A., but Echo Park-based actor Jonathan Brown puts a bit more wear on the radials than most. When he got the urge to return to the stage this spring, he snagged a part in a production of The Bacchae with the Long Beach Shakespeare Company (54.4 miles roundtrip). Midway through the run, he auditioned for a production mounted by Stillspeaking Theatre in San Marino (26.2 miles roundtrip).
"It's fairly far away," the Denver native notes. "But compared to Long Beach it's about 10 miles closer." Stillspeaking is a church-based theatre, which initially concerned Brown, as his background in Colorado made him wary of faith-based groups and their conservative politics, but once he realized it was the United Church of Christ, "about as open-minded and liberal as you could possibly get," Brown says his concerns were "washed out the window."
A good thing indeed, as the actor was auditioning for the part of the gay lover of a Mormon man who has committed suicide. Director Donald Shenk saw the play in San Francisco last summer and knew it was a play he had to do. Shenk and Brown were impressed by the beauty and evenhandedness of Carol Lynn Pearson's writing. "She does a good job balancing a very delicate subject," notes Brown.
The director's enthusiasm at the audition sold Brown on the show, even though, Brown admits, "I wasn't sure how the thing was going to come together." The director had everybody cold read. Shenk tries to avoid coming to an audition with a preconceived notion and prefers that the actors "convince me by their performance and by their audition what I'm going to think of the role." He eventually whittled the field for the role of Marcus to three actors, each of whom had given a very different audition, and had to sleep on it for a few nights.
The choice became clear once Shenk realized that "Jonathan really let it come up out of the depths of his understanding of the character. He wasn't really trying to play anything, and yet I just immediately thought, 'That's a gay man.' It's kind of a nebulous thing, but that's what it came down to."
Brown, not an overly religious person, has found this to be a "very profound experience." He says, "It's a strange thing for me to say, but I do feel kind of blessed to have stumbled onto this thing. I think it is a show that is about joy and hope. I think every actor in the world can use a little more joy and hope in their life."
Facing East plays through Aug. 3. www.stillspeakingtheatre.org.
Has Back Stage helped you get cast in the past year? We'd love to tell your story. Be in the weekly column by emailing casting@backstage.com with "I Got the Part" in the subject line.